Imagine the power of Bing Crosby or Buddy Holly coming back to life by hologram to endorse your brand … or Nat King Cole performing on stage at a sponsored event.
Alki David – the media mogul whose MondoTunes has a two album deal with Chief Keef – is promising to unveil groundbreaking opportunities for advertisers to create and distribute branded content that will use hologram technology to resurrect icons of music and film.
The 47-year-old founder of global IPTV provider FilmOn.com will host an exclusive event in London next week to reveal latest details of his cutting-edge hologram content plans that have already set alight the media in the USA.
He will confirm that FilmOn TV Networks has signed a series of rights deals with the estates of world-famous artists like Barry White, Liberace, Sammy Davis Jnr, Patsy Cline and rapper Eazy-E (whose life story is told in box-office hit Straight Outta Compton).
Mr David said: "Our stable of talent is very impressive and includes both living and departed stars, from Tammy Wynette to Billie Holiday and many more yet to be revealed.
"Our platform encompasses digital distribution on a variety of outlets and social media engineering kick-started by amazing content that we are already producing in-house for major brands in the USA.
"We are extremely excited to offer these opportunities to the London advertising establishment. For the first time in history audiences can experience brand integrated shows delivered by their favourite celebrity via jaw-dropping hologram coupled with mass global distribution."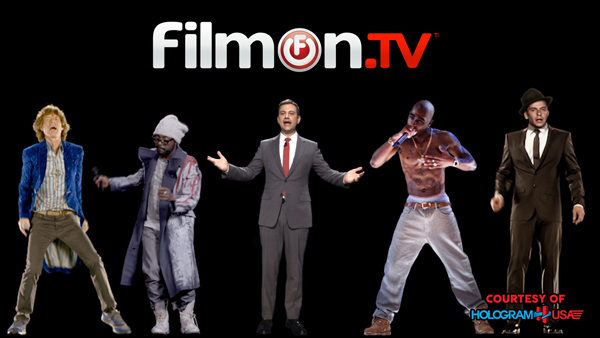 FilmOn TV Networks' sister division Hologram USA has acquired the digital rights on behalf of FilmOn to a huge stable of stars. A major and much anticipated name will be announced next Thursday at the exclusive London event.
The FilmOn library also includes an extensive range of current stars including not only Chief Keef (whose recent release Bang 3 Pt1 made the Billboard Top 10 Albums) but many others like Celebrity Big Brother star Janice Dickinson (who has her own show on FilmOn TV).
FilmOn.com streams over 700 TV channels online and hosts over 200,000-hours of content that is available on demand. It also broadcasts its own TV station in the UK on Sky Channel 237.
The digital platform serves around 2.5 billion ad impressions per month and attracts over 70million unique monthly visitors.
FilmOn TV Networks offers multi-platform solutions for advertisers to raise global awareness of their brands through its Class15 and Advirally social engineering platforms. FilmOn also works with a number of leading UK and advertising networks, including BrightRoll, Collective and StickyADS.
Mr David, a British-Greek who is an heir to the Leventis-David Group, has attracted a large amount of media attention in America for his hologram plans. New York Magazine's Vulture website recently referred to him as: "The Greek Billionaire Whose Celebrity Business Would Bring Back The Beatles."
Hologram USA was responsible for the hologram election addresses of Nerendra Modi, Prime Minister of India, plus Tupac's hologram show at Coachella and many more.
You may also like to read:
Get ready for Chief Keef with FilmOn
Liberace back with hologram resurrection