With Valentine's Day approaching everybody loves a pizza. But what do you do if the pizza delivery guy gives out your phone number to his brother who starts sending you creepy messages?
Apparently that's exactly what happened to singer Iggy Azalea at the weekend – and she's been in a war of words against Papa Johns ever since.
Iggy Azalea went HAM (and pineapple) on Twitter after her delivery dude massively breached her privacy. She tweeted a screen shot of a message she received on her personal phone, which was apparently sent by the delivery guy's brother.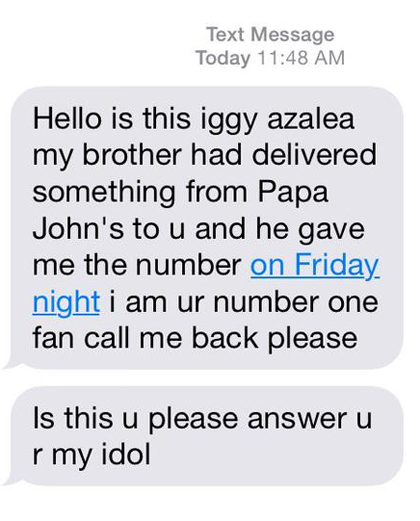 Like stuffed crust cheese left to go cold, the plot thickened. The Papa Johns Twitter account replied to Iggy with a tongue-and-cheek response referencing her song 'Bounce' as a failed attempt to patch things up:
"@iggyazalea #We should have known better. Customer and employee privacy is important to us. Please don't #bounce us!"
The light hearted response apparently didn't sit well with notoriously feisty Pizza-lover, and the situation got hotter than a peri-peri pepperoni when Iggy replied:
"@PapaJohns I don't think data breach is funny. I expect you to contact me to explain how you are going to rectify your breach" …"@PapaJohns of my personal information in a satisfactory and professional way or lawsuit will be filed."
Pizza is no joke guys, and neither is personal privacy, lets all hope the situation stops here and Papa Johns give Iggy a proper apology – a free pizza should do it.
You may also like to read the following:
MTV: Read more about Iggy's pizza fury
Meet the bagel-heads! Fashion fans have snack-shaped implants injected into faces
Brucey faces questions over horror crash
BattleCam: Crazy restaurant employs monkeys as waiters
* You can keep up with showbiz news, plus watch free live TV on the web at FilmOn.com, where there are hundreds of great channels to choose from including FilmOn Tv Live (playing below) ..