If you pass by Shanon Slack, you might mistake him for a college or even high school student. Professional fighter probably wouldn't come to mind. Or businessman.
One thing that separates the Bellator Mixed Martial Arts fighter from perhaps every other athlete in MMA: He's also in law school.
Slack, nicknamed "The Heartbreak Kid" (due to his youthful appearance) and "The black Brad Pitt," started Southwestern Law School in August. An anomaly for any professional athlete.
Slack already holds a bachelor's degree in political science from Old Dominion University and a master's degree in economics from the University of Colorado, and is now taking entertainment and business law at Southwestern.
You might also like: An MMA holiday feast: What three UFC fighters ate for Christmas 
But how did the 30-year-old, who still competes as a professional fighter with a 6-1 record, get to this point?
Slack was born in Chicago and moved to Richmond, Va., when he was 11. His football coach in middle school got him into wrestling, and was told by a cousin that he wasn't tough enough to wrestle. That doubt fueled Slack to work hard and succeed in wrestling.
"Wrestling saved my life," Slack says. "If it wasn't for wrestling, I would have ended up like everyone else, dead or in jail."
Wrestling took him through school and into the Olympic trials, where he placed fifth in 2008 at 66 kilos.
You might also like: Outplacement Report: The NFL's fired head coaches
From there he segued into MMA, becoming the wrestling coach for UFC Bantamweight Champion Dominic Cruz on the UFC's hit show The Ultimate Fighter. 
While most fighters primarily train and wait for their next fight, Slack has made moves in something other than fighting: business. He has helped businesses including SNA Studios, TC Logiq, HBK Estates and several others.
"I connect people, make introductions and get people what or who they need to make a business deal," Slack said.
With TC Logiq, he helped with the infrastructure of the business from the ground floor, and now it is one of the leading background-screening agencies based out of Colorado Springs, Colo.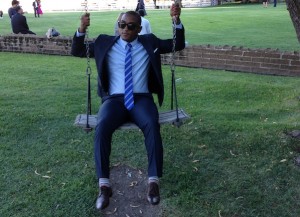 You might also like: MMA Update: Did Anderson Silva fight for the last time at UFC 168?
"People don't know what I do. People think I come from money, or I'm a drug dealer, but I'm a business guy. I look for opportunities," Slack says. "I understand finance, I understand business plans, but more important than that, I understand networking and cultivating relationships."
Slack puts a lot of value into his business relationships.
"I may not help a business right now, but four, five years down the road it might work, and eventually the relationship pays off," he notes.
Going to law school will give him that much more credibility in the business world, as he would like to open his own firm one day.
Slack says he's desired to go to law school since he was five, and only started wrestling because people said he couldn't wrestle.
"People told me I couldn't wrestle, and I did it, people told me I couldn't go to law school, and now it's a reality," he says. "It's something that will always separate me from other people. I'll be able to make a good living doing that. If I get hurt in MMA, I have something to fall back on.
You Might Also Like: UFC Welterweight Champion George St. Pierre steps down, leaving the title up for grabs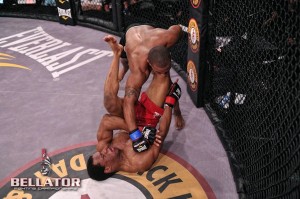 "If you don't fight, you don't get paid. Everything's OK until you're broke," Slack says. "I might fall down the stairs. Then what am I going to do? Your body is not the moneymaker, your mind is."
Asked why Slack hasn't had a fight since February 2013, Bellator's matchmaker Zach Light, who also fought in the UFC, WEC, says, "Slack isn't your average fighter. He's able to make money doing other things. This summer he was traveling all over and was in Paris for over a month. Slack doesn't need this — but I think he could be one of the best fighters if he wanted to be."
(Slack had a fight set for Oct. 18, but had to cancel due to his schedule.)
Slack insists he hasn't done anything great.
"Even if I would have won an Olympic gold medal, I think that would have been a great accomplishment, but not as great as passing the bar," Slack says. "Once I pass the bar, I'll think I finally did something great."
David Kano is lead writer for MMA Show News and co-host of The Hollywood MMA Show. You can follow him on Twitter @TheDKano.
UFC fights and commentary are available on UFC Next on FilmOn:

Follow TV Mix on Twitter: @tvmixusa
Contact TV Mix: editors@tvmix.com
SOURCE: TVMix.com