As a promotion for the release of the deluxe edition of RuPaul's iTunes #1 album Born Naked this Tuesday (the reputed highlight of which is a duet with LaToya Jackson), World of Wonder are posting segments of his YouTube series RuPaul Drives on their website. A bit like the cult favorite Fishing With John (1991), in which John Lurie journeyed into strange waters with the likes of Tom Waits, Matt Dillon and Dennis Hopper, RuPaul instead braves the asphalt arteries of Los Angeles in his cherry-red Volvo, with the directors Chi Chi LaRue and John Waters, pop star Olivia Newton-John and actress Kristen Johnson (3rd Rock From The Sun), as well as former contestants of his successful series on the Logo network, RuPaul's Drag Race.
You might also like:
The most recent release is a two-parter with poet/performer/punk elder statesman/modern-day renaissance man Henry Rollins, driving him to pick up classic punk poster artwork while discussing relationships and fame. On paper these two would seem unlikely friends, however both grew up on one coast and moved to the other in their pursuit of their artistic goals. With RuPaul lately 'bi-coastal'-curious, and like Rollins continually expanding an already remarkable level of media omnipresence, it was inevitable that the two budding national treasures would strike up a close friendship.
You might also like: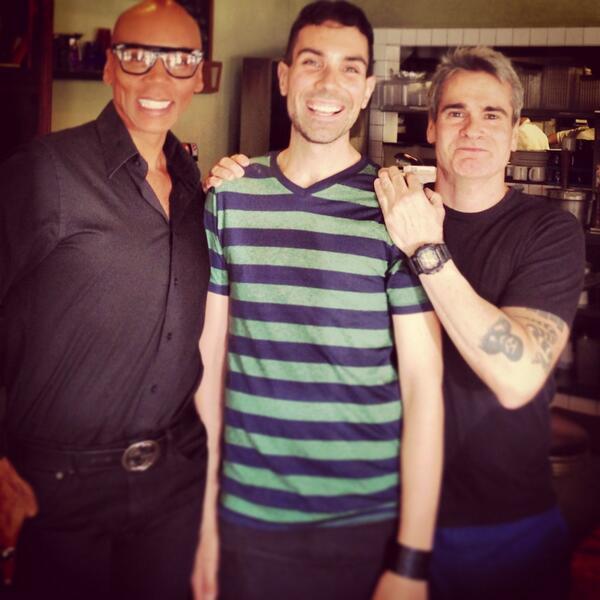 Rollins, who has been writing regular columns on music, media and politics for Vanity Fair since 2008 and for L.A. Weekly since 2010, here attempts to reveal a more personal side, although still not giving away what truly makes him tick, which he reveals, of course, IS what truly makes him tick. RuPaul has dealt with all the enigmas, and is not having it from Rollins, albeit with a deceptive breeziness. These two guys that have always pushed the boundaries of in-your-face outrageousness in their own unique, intelligent and transcendent ways, have a rapport reminiscent of a lo-fi Mr. Incredible and Fro-zone from The Incredibles, and like that in that classic you come out happy to know they're on your side, protecting your rights and livelihood, entertaining and educating in the process.
You might also like:
Watch non-stop celebrity gossip on Celebrity Buzz via FilmOn:
For more streaming TV and movies, visit FilmOn.
Follow TV Mix on Twitter: @tvmixusa
Contact TV Mix: editors@tvmix.com
Source: TVMix.com