Simon Baker has ended his short-lived relationship with his former girlfriend, activewear designer Laura May Gibbs. The two, who began dating in March, decided to end their romance several months ago. But the news is now just being publicized, as she's garnering attention for attending an anti-vaccination protest rally in their native Australia last weekend.
The Emmy Award-nominated 'Mentalist' actor and the activewear designer parted ways  after she became increasingly vocal on social media about her opposition to the COVID-19 vaccine. They were last publicly seen together in August during a beach outing in Byron Bay.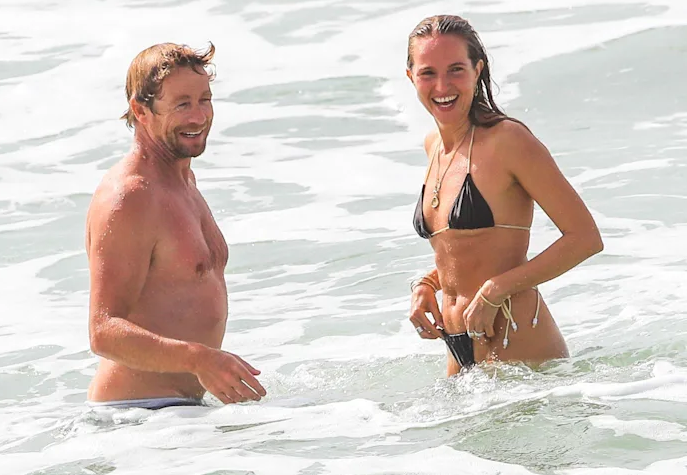 On Sunday, Gibbs posted a video on Instagram while attending the rally to protest the recent vaccine mandates that Australia has instated nationwide. The clip shows hundreds of people gathering and cheering their opposition to the vaccine. The designer captioned the Instagram post, "Power to the people ✊🏽❤️ @reclaimtheline."
Gibbs is the founder of luxury fashion and lifestyle brand Nagnata, on which she collaborates with her designer sister, Hannah Gibbs. Last month, Baker's former girlfriend released a lengthy statement on the company's official Instagram account criticizing the discrimination surrounding people who choose not to receive the COVID vaccine.
"It is against our personal and brand values to discriminate against any customers from walking through the doors of our Nagnata retail store," the Instagram post read. "In light of the NSW government releasing a roadmap to ease COVID restrictions for the vaccinated only, we have made the decision to close our Byron Bay store from Monday 11th October. We will reopen when ALL are welcome without fear of judgement and fines."
Baker and Gibbs began dating after the actor and his ex-wife, Australian actress Rebecca Rigg, filed for divorce in April 2020. The couple was married for almost 22 years, and have a daughter and two sons together.