If you haven't noticed, it's award show season. This is Hollywood's Super Bowl, except it lasts for what feels like an eternity. Tonight is the Grammy Music Awards, which you have probably heard of because of that one time the song from Avatar won and you were all about it when you dressed up for Comic-Con that year.
Tonight we'll see if Lorde or Kendrick Lamar win best new performer, if Daft Punk will get lucky and how megastars from Led Zepplin to Jay Z do. And of course we'll be even sicker of Taylor Swift and Imagine Dragons by the end of the night.
While there are certainly more reasons to continue not giving a shit about the Grammys, here are three reasons why you might want to reconsider:
Live performances. It's a nice break from seeing pixelated people on-screen all day long. Believe it or not, there are performers out there who do things like dance, sing, and entertain. The Grammys is chalk-full of performances by the year's so-called "best" musical artists. It's the next best thing to actually leaving the house and counting those crumpled $1 bills for a concert ticket.
You might also like: Justin Bieber arrest: Welcome to the Hollywood Bad Dads Club, Jeremy Bieber
It's Like Speed Dating for Pop Culture. No one's asking you to do anything crazy like see daylight or rejoin society. But if you tune in to the Grammys tomorrow night, in less than three hours, you can catch all the highlights of the last year you've spent not shaving and hiding out in your man cave. It could come in handy if you decide to go hunting for a date in the real world at some point in 2014.
Justin Timberlake. Sick of hearing about him yet? Don't be. He's not going away any time soon. Your best bet is to learn a thing or two from him. This is the guy who went from this: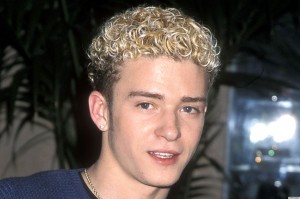 You'll never be him, so don't even try. But patience you must have, my young padawan.
You never know who will make a complete ass of themselves at music award shows. Remember Miley Cyrus' cry for help at the MTV Music Awards? These artists don't have time for the frou-frou bullshit of a classy affair.
You can watch the Grammys online in the New York area via FilmOn. Check HERE for to check availability.
You might also like:
Sexy Powerpuff Girls comic cover will turn kids into hookers, says Cartoon Network
Changing tastes? Tattooed performer Bonnie Rotten takes home AVN Female Performer of the Year
Best FreeBieber tweets: "Justin Bieber is going to make a great mayor of Toronto someday"
Watch Music Mix USA on FilmOn:

Follow TV Mix on Twitter: @tvmixusa
Contact TV Mix: editors@tvmix.com
SOURCE: TVMix.com