Elon Musk started a fight with  Bernie Sanders  this weekend on Twitter over their conflicting ideas on America's tax policy. The Tesla and SpaceX CEO expressed his opposition to the Senator suggestion of raising taxes for the extremely wealthy across the country.
Oregon Democratic Senator Ron Wyden agrees with the independent Sanders on the idea of increasing taxes for America's richest individuals. Their similar ideas led Musk to also target Wyden earlier this month in a similar heated exchange on Twitter, as the entrepreneur strongly opposes the billionaire's income tax.
Musk's heated debate with the two politicians comes amidst the revelation over the past few weeks that he has the potential to become the world's first trillionaire. He also sold about $6.9 billion worth of Tesla stock. As of this morning, the businessman still holds more than 166 million shares in the company.
The company's recent stock sales from Musk and other insiders have lead the stock to declined 15.4%. That decrease marked Tesla's worst one-week performance in 20 months. The decline also marked its worst week ever, excluding declines in the first quarter of 2020 as the COVID-19 pandemic sent markets tumbling. Tesla closed down another 1.94% today.
As he continues selling his Tesla stocks, Musk will face a potentially massive tax bill. He previously paid a 3.27% true tax rate, or $455 million, on his wealth growth of $13.9 billion. The businessman, who had an actual taxable income of $1.52 billion during the past five years, didn't pay federal income taxes in 2018, according to ProPublica.
Sanders wrote in a tweet on Saturday: "We must demand that the extremely wealthy pay their fair share. Period."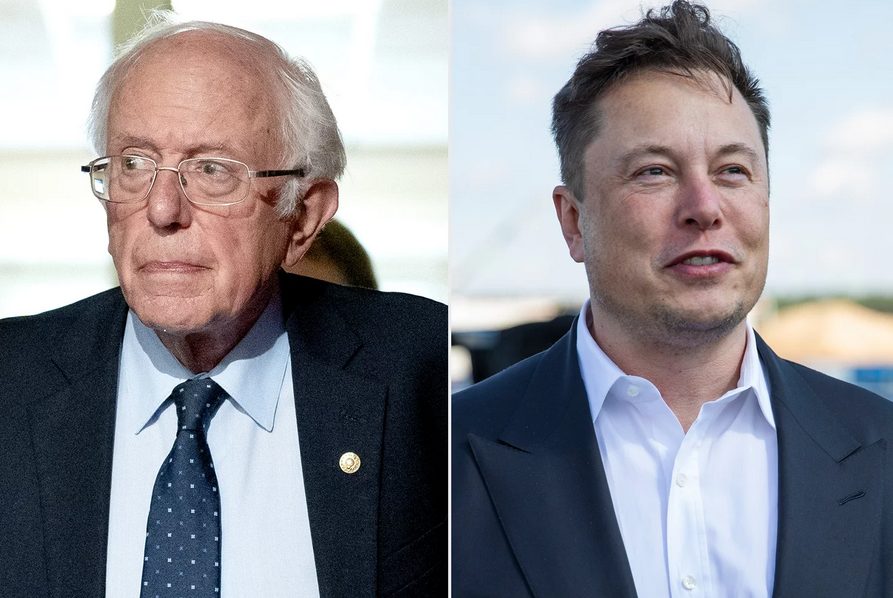 Musk replied to the former presidential candidate yesterday, saying: "I keep forgetting that you're still alive." He also asked Sanders, "Want me to sell more stock, Bernie? Just say the word." The CEO then berated the senator by saying, "Bernie is a taker, not a maker."
Musk attempted to engage Sanders again this morning, asking: "Ok, how much do you think is fair? Does 53% seem reasonable?"
When Sanders didn't reply to him, a Musk supporter remarked that the senator doesn't respond to followers on Twitter generally. Musk jokingly asked, "How do we know he hasn't been kidnapped by aliens!?"
Musk continued to discuss his tax policy preferences with fans and followers, including promoters of bitcoin and Tesla, on Twitter. In his tweet exchanges, Musk revealed that he would support an estate tax, and taxes on what he called extravagant consumption. Sanders hasn't yet respond to Musk.
Last year, Musk put his California mansions on the market while he was fighting with state health regulators over Covid-19 restrictions that impacted the Tesla factory in Fremont. He then moved to Austin, near the site of a new Tesla factory that's under construction. This year, Tesla also moved its headquarters from Palo Alto to the Texan city.
The CEO decided to move from California, which has the highest state income tax in the country, to Texas because it has no state income tax. The move may save him billions of dollars, based on his compensation package awarded in 2018.