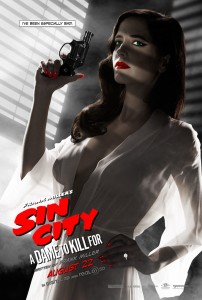 The new Sin City: A Dame to Kill For movie poster is being banned for too much underboob, according to the Motion Picture Association of America (MPAA). The poster features the film's leading lady, Eva Green, holding a gun and wearing nothing but a sheer white robe. MPAA cited the offense as "nudity — curve of under breast and dark nipple/areola circle visible through sheer gown." No shit.
It's no surprise how quickly they blew the whistle on that one. All it takes is one look at Eva's piercing eyes and equally piercing nipples to know that this was an intentional move on Dimension Studios' part to create a little bit of buzz before the film's August 22, 2014 release date. They can play it coy but no one's falling for "Oh, this ol' thing?"
Sin City: A Dame to Kill For is the very late sequel to 2005's Sin City, based on the comics by Frank Miller. Original cast members Bruce Willis, Jessica Alba, Rosario Dawson, and Mickey Rourke will reprise their roles. Let's hope no one has to see Rourke's areola circle either.
You might also like:
Check out more movies on Hollywoodland via FilmOn:
For more streaming TV and movies, visit FilmOn.
Follow TV Mix on Twitter: @tvmixusa
Contact TV Mix: editors@tvmix.com
Source: TVMix.com