We all know vampires simply cannot die. Unless there's a silver stake inconveniently lodged in their unbeating hearts.
That's no doubt why a newly resurrected version of Bram Stoker's classic tale, NBC's ten-part Dracula series, will debut on Oct. 25 at 10 p.m ET.
This new blood sucker — played by Jonathan Rhys Meyers of The Tudors fame — bares a strong resemblance to the old bloodsucker. He's got some major fangs, pretty cool powers and an unquenchable thirst for blood. And the Count is still mooning over his lost love Mina Harker, who is conveniently reincarnated in the new series from the producers of Downton Abbey and a director of The Tudors.
But there are noticeable differences. First, Drac is back as a very American entrepreneur/showman named Alexander Grayson. He's come to England determined to light up the London night, presumable to make his own late night activities more prolonged, pleasurable and plausible.
Viewers may also notice that the 19th century Victorian era costumes don't quite fit the period. They are heightened, more elaborate, more brightly colored with unsettling modern touches. It often feels like there's a David Lynch-ian, Tim Burton-esque quality to both the costumes and sets, or as if the late Alexander McQueen were in charge of the wardrobe department.
That's precisely the conceptual zone where costume designer Annie Symons (most recently of Davinci's Demons fame) loves to work. The Emmy and BAFTA-nominated designer's other film credits include John Maybury's  Love Is the Devil about painter Francis Bacon, Julien Temple'sPandaemonium, about the collaboration of English poets Samuel Coleridge and William Wordsworth, and Derek Jarman's Caravaggio, a project that she calls, "life changing."
"I rarely do straight narrative period," Scottish born Symons admits. "Although I don't eschew it because it has a discipline and can open up ways of thinking in itself. I always like to find the rules — whatever they are — and then bend them to fit the narrative. It's a puzzle, an unholy synthesis. And the joy is when it works with the narrative and you have reinvented the past and arrived at a visual metaphor for the script."
She adds: "I use what I know about one period and another and try and mesh them together. I do like the discipline of straight period, but I've worked in fashion and I like clothes to look like they belong to people, like it's their wardrobe. It's a combination of imagination and pragmatism: and I love that."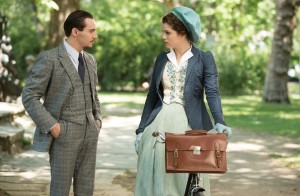 Here are Symons's thoughts about three characters' costumes:
 Count Dracula/ Alexander Grayson (played by Jonathan Rhys Meyers):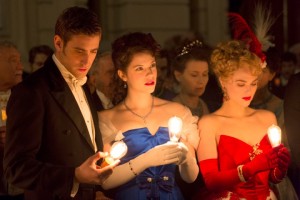 "The whole concept is that he's an American in London and he's rocking the establishment. All the lords would have worn black frock coats and had that stuffy look about them. Whereas he turns up in these grey sharp suits that are deliberately modern – we push it as far as you can go without it becoming fanciful. He wears spear point collars to remind us of his fangs. It's all very sharp, with a very identifiable top hat and a great coat with a sharp-edged collar. The coat's based on a military cut so he has that warrior-like aspect because one of the things Jonathan wanted was to have that sense that Tepes the warrior was never far from the surface. There's always something that gives his foreignness away. There are the colors, the poisonous greens. Or the shape of his ties; he wears fur on his coat sometimes. Whether that foreignness is from Wallachia or from America I always tried to feed in some slightly unusual elements that remind us that he is from middle-Europe."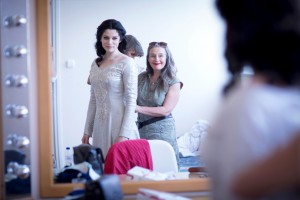 Mina Murray (played by Jessica De Gouw)
"For Mina, I looked at Katherine Hepburn and the cool, classic Yves St Laurent shape. I wanted that very elemental, simple cleanness because she's a woman in a man's world, and she wouldn't want to attract attention to herself. I just wanted to keep her kind of boyishly simple."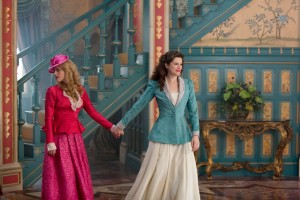 Lucy Westenra (played by Katie McGrath)
"Lucy is like a turbo-charged twink who has more money than brains and just literally covers herself in any accessory going. That's very LaCroix, that sense. So I wanted her to look very ornate and very encrusted in ostentatious wealth. She has more outfits than anybody because she's got more money than anybody."
 The fashion world is always streaming free via FilmOn.com:
Related LInks:
Can The CW's period series Reign mimic Gossip Girl's fashion fire power?
Rihanna fashion shoot at Abu Dhabi mosque draws fire
New Take on Old Horror: Carrie, the ultimate anti-bullying campaign?