The sun is shining, the sky is blue and there's not a single turd floatin' in the ocean.
Yup everything seems to be perfect in the life of Britney Spears right now. The 34-singer posted a series of videos taken during a recent vacation in Hawaii, which you can see here via Mail Online.  The images include the snap below of Brit in a canoe with her 7-year-old niece, Maddie.
Spears (pictured above in a file photo) apparently has plenty of reasons to celebrate, having recently splashed out on a new home in Thousand Oaks and revamped her stage show in Las Vegas by adding a tonne of horny outfits.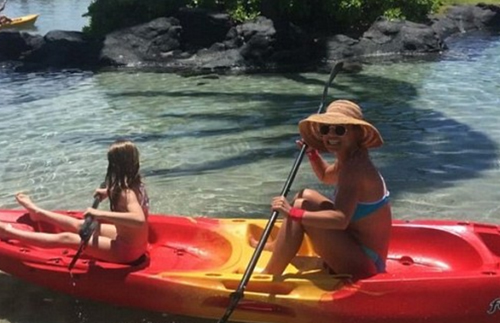 A source recently told People: "She looks better than ever and her body is in incredible shape. That means hotter, sexier costumes showing more leg, more midriff, more cleavage."
Hubba Hubba.
It's all a far cray from the bad old days when Brit shaved her head and tried to attack a photographer with an umbrella. The star's very public meltdown nine years ago is now a distant memory, apart from on YouTube (we know it's cruel, but go on, take a look below …).
* Keep up with news and entertainment at FilmOn.com, where there are hundreds of free TV channels to choose from that you can watch via desktop, tablet or smartphone.  
You might also like to read the following celeb stories;
Leonardo DiCaprio is down to party with Jennifer Lopez
Adele gets her tits in a twist: 'You can go f**k yourselves, alright?'
Topless duo Kim Kardashian and Emily Ratajkowski send Twitter into meltdown