Oh for f*** sake, what have you done now!?
So Miley Cyrus has gone and got a tattoo of her on and off lover, Liam Hemsworth's favourite snack, Vegemite.
To be fair to the little minx she's been fairly quiet of late (and by that we mean we have seen her mosquito bite nips in a while), so we're not all that surprised by her latest stunt.
According to the Daily Mirror Hemsworth loves Vegemite, and it looks like this was enough of a legit reason for Miley to have it permanently branded on her skin … thank god he didn't say he loves giant weeners.
We reckon the Aussie hunk could either find this adorable or bat-shit crazy but considering he's still knocking about with the wild chick he'll probably love it.
The two have yet to confirm their current relationship status, maybe Cyrus is hoping to seal the deal with this peculiar sign of affection.
As always, we don't give a shit.
Here's the ridiculous tattoo below posted on Doctor Woo Tattoo's Instagram page, @_dr_who: "@mileycyrus don't play when it comes to #vegemite #halfneedle"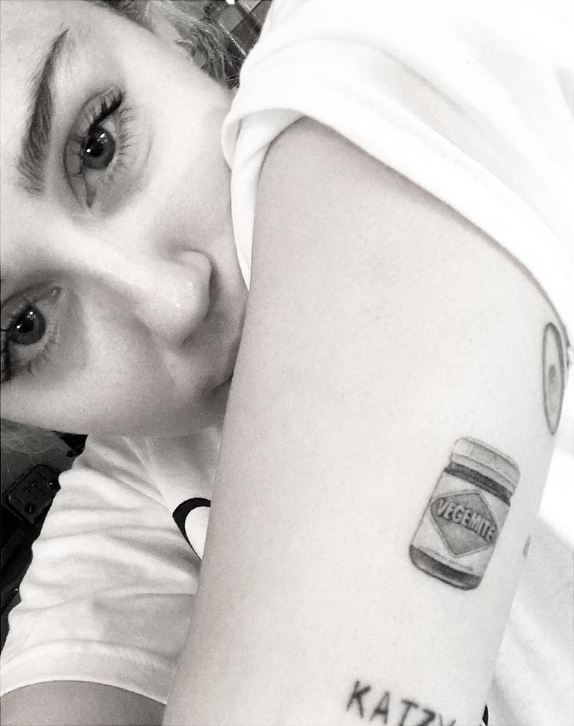 * For more entertainment news go to FilmOn.com, where there are hundreds of TV channels to watch for free.
You might also like to read:
 Ray J may sue Kanye West over naked waxwork video
 Ruby Rose gets a shiner from Keanu Reeves on set