Taylor Swift's alibi seems to have been blown apart by power couple Kim and Kanye West.
Turns out that sneaky Kim actually recorded her hubby explaining to Taylor what was going to be in his controversial rap number, with Taylor thanking Kanye, saying it was okay!
Not like Kim to record something and post it online for attention!
Handy then, that according to The Guardian she posted a video of the conversation, which sensationally reveals Taylor happily approving the majority of the lines in Kanye's controversial song – she's been well and truly busted!
Taylor reportedly said: "Go with whatever line you think is better … It's obviously really tongue in cheek, either way … And I really appreciate you telling me about it, that's really nice." Sounds like he got the green light!
Shit has hit the fan since it's gone viral but Taylor had a swift (excuse the pun) response, she said on her Instagram page: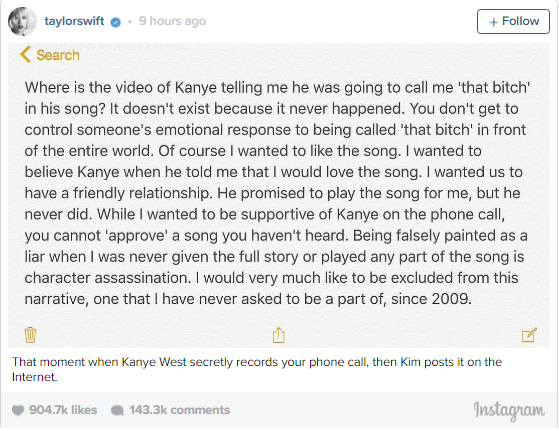 Despite what she says it's not looking so good for little miss perfect.
Time to get off your high horse!
* Watch part of the phone call below, which Kim posted on her Snapchat account. For more entertainment news log onto FilmOn.com, where there are hundreds of FREE TV channels to choose from.
You might also like to read:
Taylor slams Kanye's booby trap
Ray J may sue Kanye West over naked waxwork video