Today there's a dating website for everyone. Match.com and eHarmony have been around forever, while newer sites like ChristianMingle and JDate still need to get the word out about their existence.
In that same boat is CougarLife.com, where young men can "meet divorcees, single moms and sexy singles looking for a young stud!"
CougarLife ran into a bit of trouble Down Under recently when their 30-second ad was banned from television in Australia for "acts of violence," including 44-year-oldadult film actress and four-time winner of the Adult Video News MILF/Cougar of the Year Award Julia Ann shoving a sandwich in a younger woman's face and then pushing another out of her chair.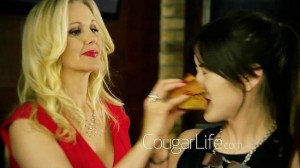 Australian film ratings are slightly different than those in America. General and Parental Guidance are pretty much the same, but Aussies also have ratings like Mature (suggested for those 15 and up) and MA 15+ (mature accompanied, proof of age required and must be accompanied by an adult). The restrictions only get more severe with R 18+ (restricted to adults).
Movies that have been given an MA 15+ rating in Australia include 2 Guns and Riddick for strong violence and coarse language, and The Conjuring, a film that Australian movie guide eBroadcast said "has all the elements to make your skin crawl."
So, strong violence, coarse language and horror films which will make it to TV are okay, but an ad for an older women/younger men dating site is not. What gives?
This is where Australia's Advertising Standards Board steps in. The ASB has its own set of standards to classify ads on TV, which doesn't quite make sense considering viewers see television programs and ads right next to each other. Regardless, while members of the board didn't see anything wrong with the ad, the majority did and moved to have it banned when they began receiving complaints from viewers.
The same ad ran into trouble with the Television Bureau of Canada, who put the ad in a 'pending' file; it remains to be determined if it will be banned.
Julia Ann seems to understand the real reason behind banning the ad in a statement posted on the CougarLife blog.
"I wouldn't be surprised if the real reason the ad has been banned is because they don't agree with the premise behind the brand, or maybe even because I'm a porn star," she said.
Desperate? FilmOn is streaming bikinki videos free 24/7:
Related Links:
Kung Fu: Miss Lydia is back with advice on how to manage your obsession
PS4 and Xbox One: Miss Lydia's advice for women soon to be widowed by the powerful new consoles
Carrie: The Ultimate Anti-Bullying Campaign?