Reclusive Calvin & Hobbes creator Bill Watterson does not appear in Joel Allen Schroeder's recently released heartfelt documentary Dear Mr. Watterson (2013), although a number of his colleagues (such as Bloom County's Berk Breathed) and fans, average to esteemed (such as Robot Chicken's Seth Green), expound upon his influence upon them, as well as the world at large.
It has been 18 years since the two iconic comic strip characters leapt off into the snow, shouting, "Let's go exploring!" Since that time, the visibility of Watterson's work, it must be admitted, has increasingly been maintained by the continuing proliferation of bootlegged 'Peeing (or 'Praying') Calvin' vehicle decals. Despite the best efforts of 'superfan' Schroeder and his 'Kickstarted' project, this seems unlikely to change.
For those who would take the spirit of the film and of Watterson's last C & H strip to heart, I would suggest watching Yoshio Kuroda's Toei Studios animated film Gulliver's Travels Beyond The Moon (1965).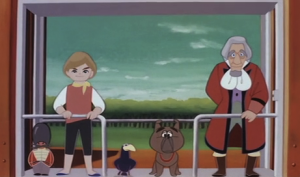 This futuristic and loose adaptation of Jonathan Swift's book features a young boy named Ricky and his sidekick dog named Pudge, who meet Professor Lemuel Gulliver and travel with him out into space, ultimately to save the Planet of Blue Hope. With compositions and a plot that conjures (yet pre-dates) both Speed Racer and Adventure Time, GTBTM Features contributors as varied as Shinichi Sekizawa (of 1961's Mothra and numerous Godzilla films) and Hayao Miyazaki (20 years before Studio Ghibli) on screenplay, Asao Tomita on the soundtrack for the Japanese version and Darla Hood of Little Rascals fame as the English voice of the evil Queen of Purple Planet. In the climactic battle, the heroes triumph through the use of squirt guns and water balloons – interestingly, the latter is what Calvin is filling in the Calvin & Hobbes comic strip panel that was used as the template for the 'Peeing Calvin' visual meme.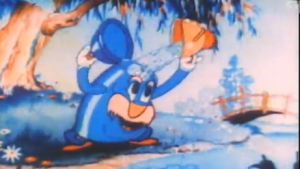 For those who would prefer to follow the visual meme turn-off down a trail of Freudian symbolism, here are a couple other animated films: 1935's Picnic Panic (The Stupid Teapot), a short from Van Beuren studios about a family or commune of large-spouted or mustachioed teapots (and other ceramic hangers-on) who go on a surreal picnic that gets disrupted by a clueless cow.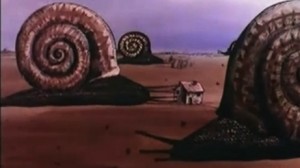 Follow that up with an offering from France, René Laloux's Les Escargots (1965), in which the future La Planete Sauvage (1973) director and his collaborator Roland Topor (who had just authored his novel The Tenant, which Roman Polanski would later bring to the screen) paint an impressionistic and druggy world where a farmer is struggling to find a good method to sprinkle water on his plants, finally resorting to onion-induced tears, before having to deal with subsequent pest control. Simple, yet in the right hands, the ultimate stream of adventure.
You might also like:
Gotta Watch — Monty Python Edition: The Spike Jones Story (video)
Gotta Watch, Almost Human edition: The Mechanical Monsters and Metropolis
Gotta Watch, Saturn edition: The Music of Sun Ra