Supermodel Janice Dickinson is recovering after suffering a seizure when she was stung by an insect on Celebrity Big Brother in the UK.
Viewers saw Janice go into the reality show's diary room begging for help – with her left hand blackened and swollen after being stung by a bee or a wasp.
Medics rushed to give her an antihistamine to prevent her from apparently going into anaphylactic shock – but seconds later Janice collapsed sideways (below) and was seen convulsing whilst having a fit.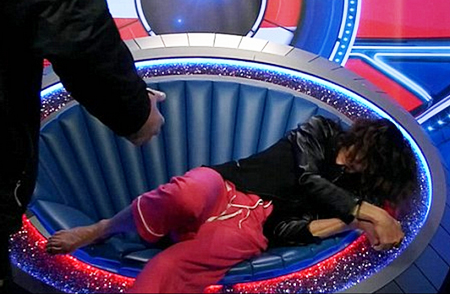 Celebrity Big Brother host Emma Watson later told viewers that Janice had recovered after a trip to hospital. The supermodel was later seen on screen confirming she is okay – and thanking doctors for saving her.
Here at Ginger Clam we reckon Janice rocks – she might be a badass, but you just gotta love her.
Get well soon Janice – and give those bastards hell in the house!
* You can keep up with latest news at FilmOn.com, where there are hundreds of free TV channels. 
You might also want to read:
Porn Queen v Supermodel: Janice clashes with Jenna Jameson
Mail Online: More about Janice's fit on CBB
Janice Dickinson's Cosby rape interview on FilmOn