Yesterday, former UFC welterweight champion Georges St. Pierre announced that he will need surgery on his left knee after tests confirmed a torn ACL. St. Pierre took to Twitter and Facebook saying, "Pain, hard work, no shortcuts and I will soon be back at 100%."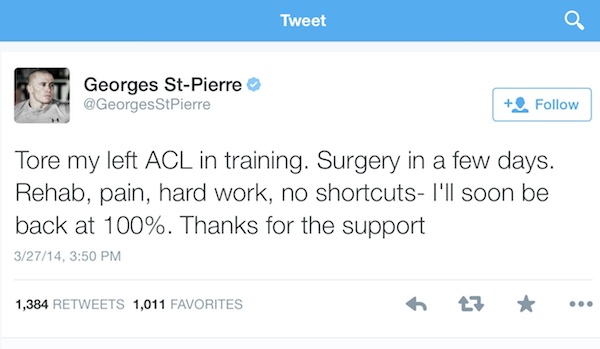 This isn't the first major injury to St. Pierre, as he tore his ACL in his right knee in 2011 before his fight with welterweight contender Carlos Condit, and it would take him eight months of rehab before doctors gave him the green light to train for a fight.
Some fans took to Twitter bewildered that the "semi-retired" 32-year-old Canadian was even training, given the fact that he decided to step away from fighting in December.
However, St. Pierre said in his sign-off from the UFC, that he would continue to train, he just was not going to fight at the time.
With the new injury on an older body and knowing the time, work, and effort needed to comeback from a second torn ACL, the question now becomes, will St. Pierre ever return to the Octagon?
UFC President Dana White has said that St. Pierre has made enough money to live off for the rest of his life and White could be right with GSP's net worth being $25 million.
Often times fighters don't fight because of the money — they fight because of the thrill of competition, the excitement of the crowd, the ability to compete and drive to win.
The last time St. Pierre lost a fight was in 2007 — almost seven years to the date against Matt Serra — and he was riding a 12-fight win streak, including his last fight, a controversial victory over newly crowned welterweight champion Johny Hendricks.
But, does St. Pierre still have what it takes to be a champion?
If he decides to get into the Octagon again, he'll no longer be 32, but 34 years of age and expectations will be higher than ever if he comes back.
Does he want to put himself through that strain and be put under the microscope once again?
There's a part of me that wants to guess, that wants to make an educated assumption, but to be honest with you — I don't think St. Pierre knows what he's going to do yet…
Watch UFC Next on FilmOn:


For more streaming TV and movies, visit FilmOn.
Follow TV Mix on Twitter: @tvmixusa
Contact TV Mix: editors@tvmix.com
SOURCE: TVMix.comTVMix.com