An Insurance Fraud syndicate of Celebrity TV lawyers who regularly appear on NBC's Housewives of Beverly Hills, have been exposed in a Swiss Court of Law by Business Crimes Specialists of Anakando Group, Zurich Switzerland.
Charges Filed Against the former lawyer Tom Girardi, Gloria Allred and Lisa Bloom, Lauren Reeves and Mahim Kahn are followed with calls for their extradition to Switzerland to face criminal charges.
Pressure is  mounting amongst high ranking members of the California State Bar where Tom Girardi was recently disbarred amid accusations of bribery and corruption of officials working at the State Bar itself.
Los Angeles, CA, Nov 1, 2021 12:31 PT | Source: 
SHOCKYA NEWS
– Criminal charges have been filed this week accusing celebrity TV lawyers Tom Girardi, Gloria Allred and Lisa Bloom, for their attempts to make fraudulent claims to a Swiss Court.
Rudy Delarenta legal Counsel to Anakando Group, said that "Girardi, Allred and Bloom and their would be clients Lauren Reeves and Mahim Kahn are ro be charged for attempting to coerce with intent to coerce a Swiss law firm to make wrongful claims on the family home of  Alki David, the media mogul.
The Swiss court dismissed the gang's attempts to seize the property where media mogul Alki David's 80-year-old mother lives. "The Swiss Court found that the attempt to seize the property was wrongful. In my opinion disgraceful. Additionally, the case is under appeal in the United States," said  Delarenta.
Girardi, Allred and Bloom are also facing criminal defamation charges, which carry a three-year custodial sentence, in Switzerland. Unlike in the United States, Switzerland does not have a first Amendment provision in its law, which makes slander with intent a serious criminal offence.
An Appeals Court in Los Angeles on Nov. 10 will hear a motion for criminal sanctions against the gang as well as their fellow defendants, Chasity Jones, Karl Zirpel, Elizabeth Taylor, Mahim Kahn and Lauren Reeves.
Fred Heather a former Federal Prosecutor and partner at Glasser Weil, will be representing David. Louis Freeh the former Director of the Federal Bureau of Investigations and Patty Glaser principal of Glaser Weil will also attend in support of Alki David, at the Nov 10th Oral Arguments.

login to DropBox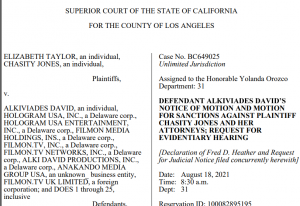 During the court appearance on Nov 10 in Los Angeles, the court  will also hear accounts of a series of whistleblower statements that were recorded by retired Judge Lisa Cole of the Santa Monica Court House in California.
The sworn statements were made by former employees at FilmOn TV who lost their jobs when the company closed its LA office due to the mounting legal attacks.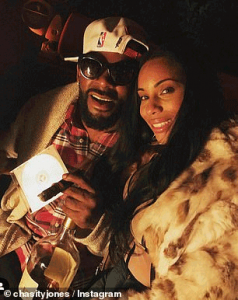 R Kelly with on off girlfriend Chasity Jones
One former employee is called Chasity Jones, who is represented by Bloom Associates, is an actual criminal on the run who despite it the illegality was able to file a Civil complaint, accusing Alki David of battery. But Chasity Jones is wanted by the US Attorney's office in LA and Jones is charged for parole violations and avoiding payment of bank wire fraud restitution, which totaled $180,000.  She accused David of battery after she was let go by his Hologram USA for faking sales contracts.
The attacks and allegations against David by Girardi, Allred, Bloom and their criminal gang began in 2014, when the media mogul businessman met the mother and daughter duo at CNN Studios in Hollywood.
David was at the studio to support his longtime employee at FilmOn TV Studios, Kato Kaelin, ironically in a show about first Amendment issues and defamation.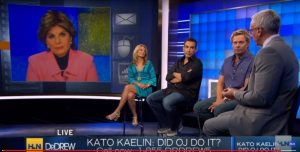 After the malicious lawsuits were filed, David started to collect evidence that Girardi and the Mother-Daughter Duo was operating a criminal insurance syndicate.
The evidence mounted as the gang just kept suing the businessman in Civil court in Los Angeles, with corrupt evidence and and a friend at the State Bar to fend off complaints.
One such fake, sexual harassment lawsuit was alleged in Elizabeth Taylor Vs Alki David. The gang decided to subsequently drop the sexual harassment allegations three years later, on the first day of the trial but the damage was done and the allegations lingered challenging David's reputation and creating a world of hurt for the media mogul.
However in the trial David represented himself against Taylor Bloom and Co. The jury ruled 8-4 in David's favor. The Jury believed David when he exposed Lisa Bloom and Elizabeth Taylor of extorting him.  For example whilst Elizabeth Taylor who was feigning injury and bad health as a result of working for David,  she seen on video wrestling professionally with visitors at the now shuttered Playboy mansion.
Disbarred Lawyer Tom Girardi is also a longtime business partner of Gloria Allred's. Girardi was recently disbarred for bribery and corruption charges by the State Bar of California, as well as the theft of his own client's award money.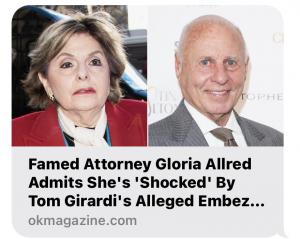 "No wonder Allred was so shocked by Girardi's embezzlement charges.  It is important to  note that after three attempts to get the attention of the State Bar to take action on these criminals, none was taken each time the response was essentially "nothing to see here" but We now have extensive evidence to link the gang directly to a series of Insurance scams run between Girardi, Allred, Bloom and Co.  Additionally they will be charged with two counts Coercion to Defraud and Criminal Defamation with Intent to Defraud. Both punishable with six years of prison in Switzerland." Said Nadya Jacks spokesperson for Alki David. "I guess you just don't eff with Alki David" he added.