If you've seen any of Darren Aronofsky's films, it's obvious that he has a soft spot in his heart for omens and visions. Thus, as his biblical blockbuster Noah is about to turn the taps wide open tomorrow, he must have noted a couple of interesting occurrences.
Northern California was hit by largely un-forecasted torrential rain, hail and tornadoes; and the Wall Street Journal reported the tale of the Cherkassy, the 'final ship of the Ukrainian Navy' stationed on the Crimean peninsula (Ukraine does have a few other ships stationed near Odessa). Unable to leave due to sunken Russian ships, the mine-sweeper continues to juke about its harbor, blasting away with water cannons at potential Russian boarders and avoiding ramming attempts and helicopter harassment. It has also had to eject at least a score of wavering sailors, whose ranks have been replaced by fully committed men from previously confiscated boats.
The name of the boat takes on an uncanny significance in light of events. Cherkassy is the name of the 18th Century, formerly Russian, fortified city founded on the Dnipro River in the heart of Ukraine, as well as its early Cossack inhabitants. Cossacks were and are believed to be at least partially descended from the north-west Caucasian Circassians, and cherkess was a reference to this particular belief. Their stubbornly defiant stance in the face of external coercion is something Noah would appreciate, and has made the Cossacks  and their ancestors both a valuable ally and maddening foe (the Ottoman Empire also had difficulties with the Circassians within their borders, resulting in their forcible removal to Syria and Palestine in the late 19th Century).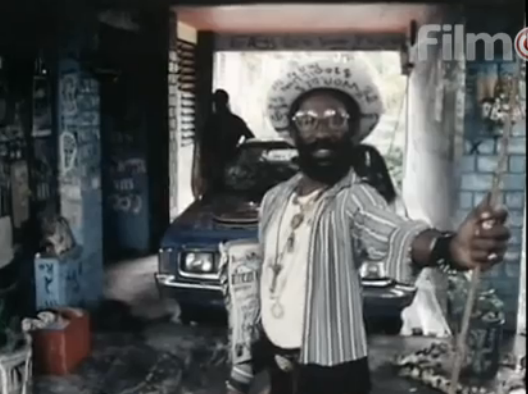 Aronofsky and Noah would also appreciate Lee 'Scratch' Perry, whose work in his intuitively-built and decorated Black Ark Studios behind his Kingston home in the seventies would revolutionize Jamaican music and recorded music in general. Perry's 'dub' techniques, done on a primitive 4-track recorder, amazed his 16-track-using contemporary producers, and are still confounding today. Perry also played the witch doctor/shaman to the hilt, with practices such as recording percussive palm trees in his backyard with buried microphones, and urinating on his tapes to bring out their mystical properties.
Nevertheless, the end result prompted a long line of clients from 1972 to 1979, including old friend Bob Marley, Junior Murvin ("Police and Thieves"), the Congos ("Fisherman"), Twin Roots ("Know Love", and even Paul McCartney and Wings ("Seaside Woman"), before the studio was largely destroyed in a mysterious fire. In director Howard Johnson's documentary Black Ark, broadcast on England's Channel 4 in 1982 and now available on FilmOn's free VOD service, 7-time Academy Award-nominated cinematographer Roger Deakins (many Coen Brothers' films, Skyfall, Russell Crowe's A Beautiful Mind) captures haunting images of the (at-that-time) forlorn studio and amazing ravings and perfomances of 'The Doctor', as well as archival footage of Black Star Liner founder Marcus Garvey and Emperor Haile Selassie's landmark visit to Jamaica in 1966.
This footage also features a performance from Nyabinghi drummer Count Ossie and his group, along with Deakins-shot footage that also includes the Skatalites' saxophonist Tommy McCook. With narration from UK Clash associate and DJ Mikey Dread and a further performance by a Perry-produced Mighty Diamonds, this is can't-miss footage in its own right, but it should also provide a perfect, earthy yet spiritual alternative/complement to Aronofsky's grand and wrathful vision.
Watch Black Ark now on FilmOn's free VOD service:
You can watch more great reggae footage on the Urban Music Network via FilmOn:
For more streaming TV and movies, visit FilmOn.
Follow TV Mix on Twitter: @tvmixusa
Contact TV Mix: editors@tvmix.com