You gotta hand it to Pamela Anderson – the girl knows how to celebrate in style.
Hot on the heels of news that her 16 year battle with Hepatitis C is finally over, the former Baywatch star recorded her delight at the weekend by posting a nude photo of herself on Instagram.
Pamela, 48, who has recently been taking a new FDA-approved drug for her medical condition, announced: "I am CURED!!! – I just found out. I pray anyone living with Hep C can qualify or afford treatment. It will be more available soon."
The image (below) shows the actress reclining on a yacht with a hand carefully covering her charms.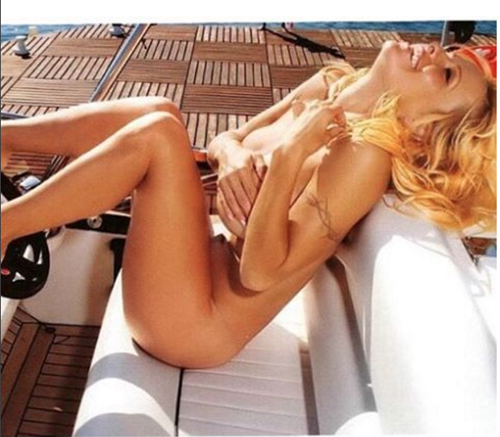 Pamela recently told People magazine she faced a one month wait to get the final all-clear, adding: "I don't have any liver damage … I feel so blessed."
Pammy we love you. And we love you nude, just the way God intended.
* You can keep up with entertainment news at FilmOn.com, where there are hundreds of free TV channels that you can watch via desktop, tablet or smartphone.
You might also like to read:
TV Mix: Pamela gets her bauble out
People: Pamela's battle with Hep C
Mail Online: More about Pamela's nude image on Instagram