Pop crone Madonna seems to be on a mission to portray herself as a global freedom fighter … by taking off her clothes.
In case you missed it amid the Easter celebrations, Madge launched a 'nude protest' on Friday – ensuring social media sites were gummed up all weekend with her image.
She posed naked with only a thin black bar to censor her nipples. The shot was also carefully cropped to ensure that you can't actually see her lady-snatch.
Madonna put the photo on Instagram in response to the site's anti-topless policy. She wrote: "Why is it ok to show ass but not breasts? Drowning in the hypocrisy of social media."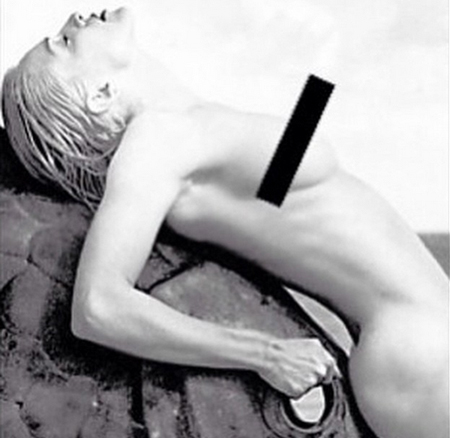 The pictures sparked the usual fawning adulation from Madonna fans on Twitter, but there were also plenty of critics who questioned Madonna's motives.
One Twitter user wrote: "Cue yawn from thinly disguised, desperate attempt to stay edgy and relevant."
Another added: "Wow that really makes a statement. It says your career is sagging like your tits." (Actually, her love-baps look remarkably pert for woman aged 56).
Whilst we're all in favour of the campaign to #freethenipple, the main problem with Madonna is that we've seen it all before.
Maybe it's time to put 'em away, eh Madge?
* Meanwhile, you can keep up with live news and entertainment at FilmOn.com, where there are hundreds of free live web TV channels to choose from.
You might also like to read:
Ever had sex with 2 people on 1 day? I have, says Madonna
The Independent: Read more about Madonna's nude protest