A woman from Maryland has held an emotional meeting with a guy who received her dead brother's face in a transplant operation.
Rebekah Aversano was filmed as she tenderly reached out to touch the new facial features of shotgun victim Richard Norris, aged 39.
Rebekah's brother Joshua was killed in a car crash at the age of 21 – but surgeons were able to graft his face onto the head of Norris, who lost his own features in a gun accident 17 years ago.
Rebekah asked Norris: "Do you mind if I touch it? Wow this is the face I grew up with."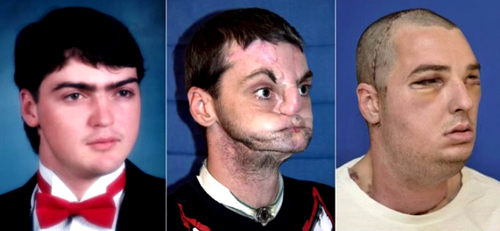 Norris (who is pictured here before and after his accident and op) battled suicidal thoughts after originally losing his face but he has now made an amazing recovery following the surgery, which was partly funded by the US Navy.
The powerful scenes will be shown on 60 Minutes Australia at the weekend, but you can watch a brief clip of the meeting below which shows the pair hugging.
* If you love great TV then check out FilmOn.com, where there are hundreds of free channels that you can watch via desktop, tablet or mobile.
You might also like to read:
The man who wears my brother's face
Guardian: More about face op man's meeting with sister
Man with no penis has bedded over 100 women