Senator Patrick Leahy was the latest to weigh in on the Cuban Twitter-like social network ZunZuneo (which sounds like something mumbled by a Phil Collins/Microsoft fan on Quaaludes) that was created by Joe McSpeddon, a 'contractor' of the US Agency for International Development, calling it a "cockamamie idea."  The whole plan comes off as something between the 'Bay of Pigs' on a wire and something you would have seen in an early Woody Allen film like Bananas (1971) or his earlier bank robbery-note scene in Take The Money and Run (1969).
Roger Corman's Creature From The Haunted Sea (available on FilmOn's free VoD service) also easily could have fit in this scenario, and it's quite possible that this film was an influence on Allen, who showed a strong early appreciation for schlock, and its production pre-dated the Bay of Pigs, so you can draw your own conclusions.
Filmed in conjunction with two other productions (The Last Woman On Earth – also available on FilmOn's VoD – and The Battle of Blood Island) in tax-friendly Puerto Rico after the success of his Little Shop of Horrors (1959), Corman gave that film's scriptwriter Charles B. Griffith a handful of days to create a new scenario, which resulted in a comic mash-up that has references (or more) from Horrors as well as Griffith's other scripts, such as Bucket of Blood and Beast From Haunted Cave (also available on FilmOn VoD). This was also around the same time as Hunter S. Thompson was having his 'Gonzo'-igniting Rum Diary Puerto Rico experiences, which were certainly relevant here.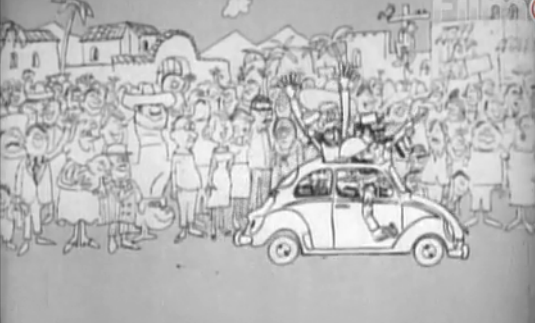 Anthony Carbone (Bucket of Blood) plays mobster Renzo Cappetto, so vile he had been "kicked out of Sicily," who enters into a devil's bargain with a deposed, but eager-to-return Bautista Regime general and his squad of frogmen to spirit gold reserves off the newly Castro-controlled Cuba. He and his motley crew, featuring Betsy Jones-Moreland (The Last Tycoon) as a female professional dice-thrower and Beach Dickerson (G.I. Blues, The Trip) as an 'animal imitator', of course plan to do away with the Cubans at the appropriate time, but what he doesn't know is that he has hired a CIA-type mole played by future-Chinatown scriptwriter Robert Towne (as Edward Wain). These and other actors are excellent in their obviously off-the-cuff performances, a testament to Corman's ability to pull entertainment almost out of thin air.
Perhaps he was approached for the real Bay of Pigs, and should have been for ZunZuneo. Creature From the Haunted Sea also features classic additional footage filmed for TV viewing by Monte Hellman (Two Lane Blacktop, and FilmOn VoD's Cockfighter), as well as 'revolutionary' animated sequences by MAD and Playboy Magazine's Sergio Aragones to top it off.
Watch Creature from the Haunted Sea now on FilmOn's free VOD service:
Watch classic films on the Hollywoodland Channel on FilmOn:
For more streaming TV and movies, visit FilmOn.
Follow TV Mix on Twitter: @tvmixusa
Contact TV Mix: editors@tvmix.com
Source: TVMix.com