Corporations and actual nations are falling all over themselves to cash in on World Cup fever. The offerings span from the interesting and worthy to truly bizarre stretches of taste and imagination.
Brazilian neo-pop/street artist Britto has been commissioned by FIFA to create original pieces for the 2014 World Cup, which are now being marketed on its site on everything from conventional posters and acrylic blocks to t-shirts and 'mini-figurines'. The now-Miami-based Britto has done Brazilian soccer-themed work before with a series on Pelé, and is also no stranger to working with international/corporate clients such as Disney, the UN, BMW and David Beckham's nemesis, Royal Caribbean Cruises, and just signed off on a limited edition Hublot World Cup watch with Pelé.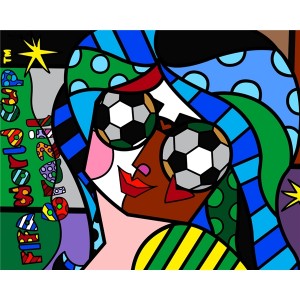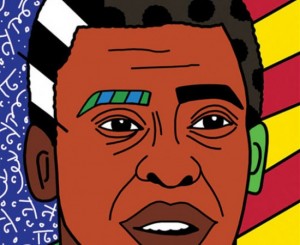 FIFA and its sponsors/partners are meanwhile using the flourishing Brazilian street art movement to the extreme. Besides working with Britto, FIFA has opened a site, Art Brasil, which features 2,014 different artworks on 'football, Brazil and celebration' by a wide range of artists from Fernand Legér to Jeff Koons and Kehinde Wiley, for sale individually or collectively. ESPN is doing multiple features on Brazilian street artists such as José Selarón, and having a live mural painted outside its tournament Copacabana studio, as well as having artist Cristiano Siqueira create a series of graphic novel-themed posters for each competing national team.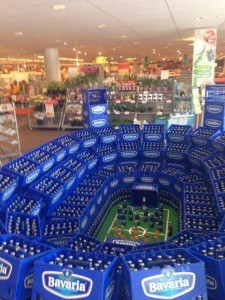 Of course, 'street culture' in relation to football has also been seized upon and milked by Addidas, Beats headphones and more in the past.
Beer cans have already produced some fun oddities. Japan's top 12 national players have been honored with their own Kirin beer can, while Bolivian beer-maker Paceña created their own alternate World Can Cup with cans made in the team uniforms of Bolivia and eleven other top national teams. Meanwhile, anonymous supermarket workers created a whole World Cup Stadium match from crates of Bavaria beer.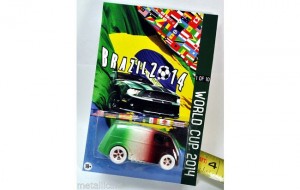 The strangest World Cup-themed products and stunts yet found (although I'm sure there are stranger yet to come) range from official FIFA air freshener, perfume and infant bibs; to US, Mexican and (very special) street-art themed 2014 Brazil World Cup edition Hot Wheels cars; to the front-runners so far, the floating by SportsBet of a Christ the Redeemer hot air balloon over Melbourne, Australia (in hopes that their national team's performance, or at least their spread against Chile on Friday, will be blessed); and Seleçao star Neymar's own brand of condoms, colored yellow and green like the Brazilian uniform, stamped with his #11, and flavored like a caipirinha.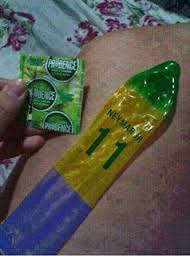 Check out FilmOn Football:
For more streaming TV and movies, visit FilmOn.
Follow TV Mix on Twitter: @tvmixusa
Contact TV Mix: editors@tvmix.com
Source: TVMix.com