The Honorable Peter Hernandez
Pomona Superior CVideoourt House, Dept K, (909) 802-1125. Hernandez,
Re: Request for Recusal – Chasity Jones Vs Alkiviades David
Dear Clerk,
I am writing to formally request the recusal of Judge Peter Hernandez and Attorney Joseph Chora from the case involving the Malibu Residence, Chasity Jones Vs Alki David, currently pending before your court. This request is grounded on the basis of new evidence and concerns of bias that may impede the fair administration of justice.
Introduction of New Evidence: Recently, evidence has been lodged in the Court of Appeals of California through a writ of prohibition. This evidence, including text messages, reveals collusion among four women to fabricate accusations against me. These communications expose the nature of allegations made by these women, in collusion with notable figures such as Tom Girardi, Gloria Allred, Lisa Bloom, Gary Dordick, Keith Griffin, and Michael Aventatti. file stamped: DOWNLOAD WRIT OF PROHIBITION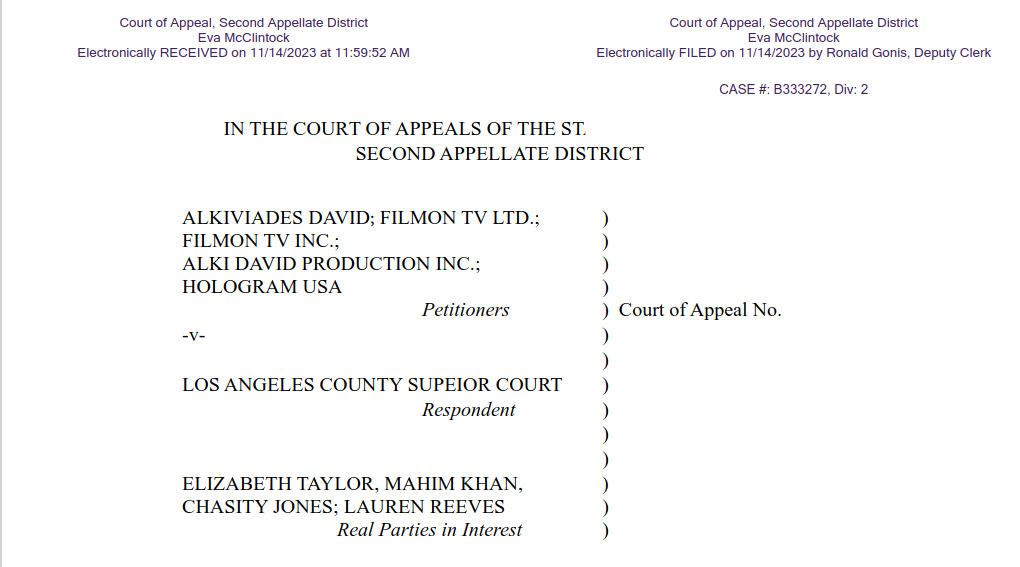 Allegations of Collusion and Extortion: The actions of these individuals, including Attorney Joseph Chora, suggest a concerted effort to extort and manipulate legal proceedings. Their tactics, aimed at exploiting my disability, raise serious concerns about the integrity of the legal process in this case.
ADA Compliance and Judicial Accountability: Under the American Disabilities Act of 2008 and its subsequent amendments, it is vital to highlight the legal obligations of all judicial participants, including judges. This legislation underscores the accountability of judicial figures in cases of proven bias or misconduct.
Suspicious Circumstances and Legal Briefs: The mysterious deaths of several lawyers involved in this case, including Barry Rothman, Rebecca Rini, John Quirk, and Phil Kaye, alongside my legal actions against Lauren Reeves, Chasity Jones, Elizabeth Taylor, and Mahim Kahn, underscore the complexity and ongoing battles related to this case.
Direct Accusations and Request for Recusal: Given the alleged corrupt actions of Judge Hernandez and the perceived bias in the handling of this case, I firmly believe his recusal is necessary to maintain the integrity of the judicial process. His continued involvement raises concerns about the fairness and objectivity required in legal proceedings.
Impact of Judicial Actions: The wrongful incarcerations and various legal actions taken against me, including the confiscation of my ADA dog and parking-related charges, reflect a pattern of harassment and legal malfeasance. These events have had a significant personal impact, further necessitating the need for unbiased judicial review.
I have enclosed copies of relevant documents and evidence supporting this request. I trust that the court will consider this matter with the gravity it deserves and will take appropriate steps to ensure the integrity and fairness of the judicial process.
Thank you for your attention to this urgent matter.
Sincerely,
ALKI DAVID
Malibu
---