President Joe Biden is preparing for his first National Christmas Tree Lighting since taking office in January by charging taxpayers $139,000 to cover the cost for the event. The National Park Service is paying the sum to a company in Ohio for locating, transporting and transplanting this year's tree, which arrived at the White House on November 22.
The federal government is also spending another $171,000 on event support for this year's National Christmas Tree Lighting. The White House also spent an additional $41,000 on holiday decorations for the Eisenhower building and Jackson Place. The decorations will continue around the National Christmas Tree, which will be surrounded by more than 50 state and territory trees that will be uniquely adorned with ornaments designed by students.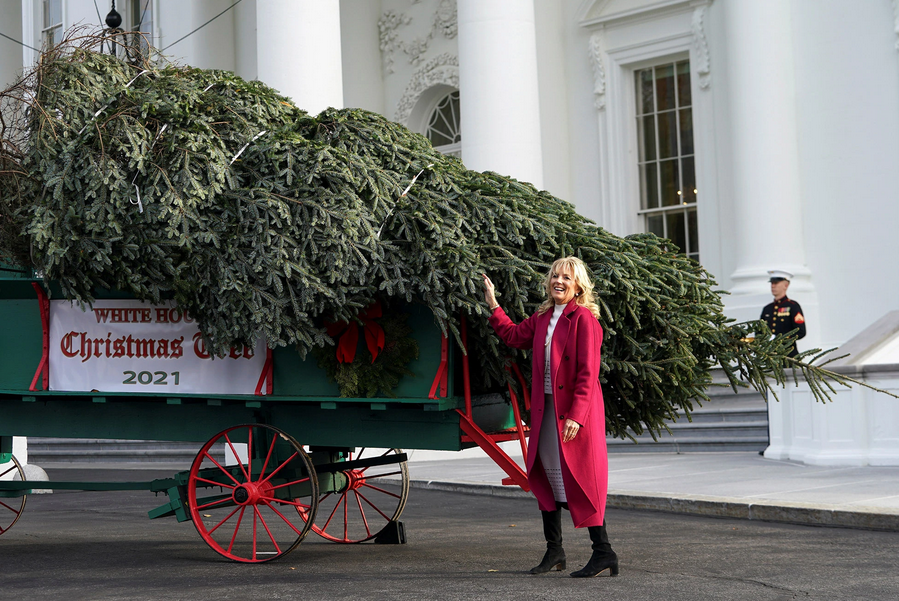 The tree lighting ceremony is set to take place this Thursday, December 2 on the Ellipse in President's Park. The festivities will then be broadcasted on CBS this Sunday, December 5, at 8.30pm ET and 8pm PT.
The National Christmas Tree Lighting will be hosted by LL Cool J. The ceremony will feature holiday music performed by Billy Porter, Chris Stapleton, H.E.R., Juanes, Keb' Mo', Kristin Chenoweth, Maren Morris and Patti LaBelle, as well as a live audience.
The upcoming in-person event comes after the tree lighting ceremony was held virtually last year, during the first Christmas season of the COVID-19 pandemic. In 2019, the federal government paid more than $160,000 for former President Donald Trump's last pre-pandemic, in-person National Christmas Tree Lighting.