If there's anything football fans love more than the Super Bowl itself, it has to be Super Bowl puns. Last year was the "Harbowl," pinning the Harbaugh brothers against each other in a matchup against the Baltimore Ravens and the San Francisco 49ers. This year, the big game featuring the Denver Broncos and Seattle Seahawks has been dubbed the "Bud Bowl," "Stoner Bowl," and every variation of marijuana-themed puns imaginable.
In a series of Hail-Mary-Jane-themed miracles, Colorado and Washington happen to be the first and only two states (so far) to legalize marijuana, and neither team has lost a home game since then. Halftime show performer Bruno Mars is no Bob Marley, but his hit song "Lazy Day" could easily pass for a stoner anthem.
But of course, those aren't the only reason this Super Bowl makes for a good matchup. Both have a 13-3 regular season record and are number one: Broncos in offense, Seahawks in defense. That has stirred up enough hype in the sports world, but who cares unless there are great memes involved?
Here's a roundup of our favorite 5 Super Bowl-inspired memes: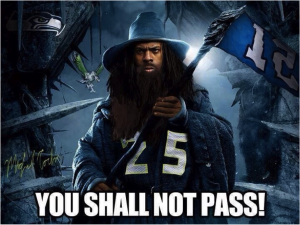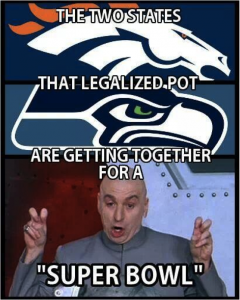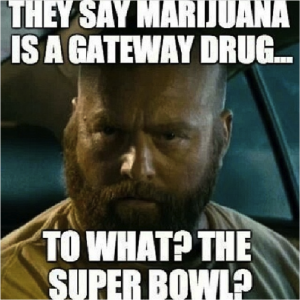 You might also like:
Forget the Seahawks and the Broncos: Draft your own fantasy puppy league
Rock band KISS schedules its L.A. Arena Football League team's open tryouts
Football's coldest games ever

Follow TV Mix on Twitter: @tvmixusa
Contact TV Mix: editors@tvmix.com
SOURCE: TVMix.com