He's famous for swanking it up in flash limos  – but now 50 Cent admits that his days in the fast lane may be over.
Fiddy, 40, posted a photo of himself on Instagram yesterday standing beside a teenie weenie smart car, with the caption, "times are hard out here."
The rapper recently filed bankruptcy papers after a court ordered him to pay $5million to Lavonia Leviston over a sex tape of her that he posted online.
Seems poor old Fiddy won't be riding in style anymore any time soon. Still you gotta admire his balls for making a joke out of it.
You can read all about his sex tape woes on Ginger Clam here.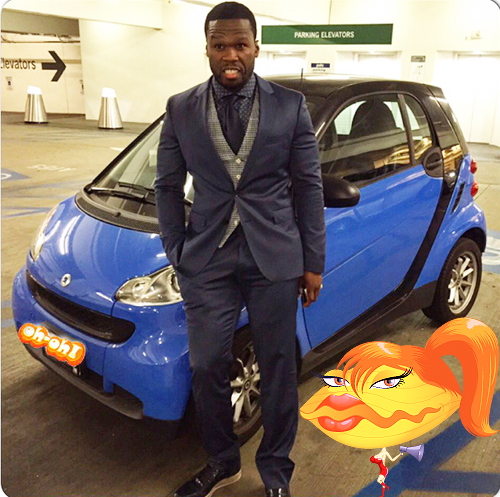 Meanwhile, you can keep up with entertainment news at FilmOn.com – where there are hundreds of free TV channels that you can watch for free via desktop, tablet or smartphone.
You might also like to read the following:
Bryan Cranston owns fan at Comic-Con
The day Channing Tatum scorched his schlong
Mail Online: More about 50 Cent