Ginger Clam knew that fellow minx Tila Tequila wouldn't last long in the Celebrity Big Brother house, but even she could not have predicted just quite how quickly Tila would get the boot!
Having barely had time to unpack her bag and strip off in front of embarrassed housemate James Hill, TT was kicked out after just 24 hours by an angry Big Brother.
Within minutes of entering the house, social media exploded with outrage that Tequila's horrific anti-Semetic views might be aired on the show.
Tequila has already praised Hitler on comments online and posed in disgusting pictures outside Auschwitz.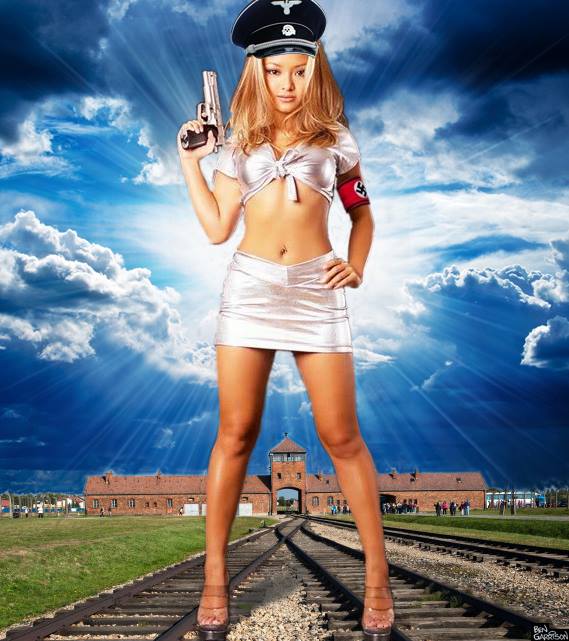 A Channel 5 spokesman announced on Friday night:
"Unfortunately, Channel 5 and Endemol did not know about the views and attitudes Tila had expressed in social media postings prior to her involvement in Celebrity Big Brother.
"When they were brought to our attention, she was called to the Diary Room for a discussion with producers and was subsequently removed from the house.
"The views Tila had expressed, and permitted to remain uncorrected, are totally unacceptable and, accordingly, her continued involvement in the programme was untenable."
Over 500 outraged viewers had already signed a petition calling for Tila to be evicted when the announcement was made.
Tequila had this deranged wisdom to share on the Nazi leader:
'Hitler was a good man and it takes some f*****g balls for someone to say this out loud…
'Here is a man who is not a coward, stood up for his country in a desperate time of need.'
It's too late for Tila to be the spokesman for old dead Adolf, but we think she'd make the perfect campaign partner for a douchebag of similar size – Donald Trump.
Tila's tiny IQ would still outshoot Trump's current cheerleader Sarah Palin, plus she has better baps. Perhaps the election race just got interesting…
* Keep up with live news and entertainment at FilmOn.com, where there are hundreds of free TV channels, including Music Mix USA (playing below). FilmOn on so good that Chief Keef has named his child after it!
You might also like to read:
Chief Keef names son after FilmOn
Kim Kardashian's pregnancy pout
Get Ready for Chief Keef's Bang 3