UPDATE: Catherine Martin received a BAFTA nomination for her work on Great Gatsby on January 10th, increasing her likelihood of getting an Oscar nom.
Costume designer Catherine Martin was recently nominated by the Critics Choice for her work in her husband, director Baz Lurhmann's The Great Gatsby. This week, the Costume Designers Guild also nominated her for a CDG Award for Excellence in Period Film. This puts Martin one giant stiletto step closer to another Oscar nomination.
She is certainly no stranger to Oscar voters, having won two Oscars in 2002 for her Moulin Rouge costumes and production work, and getting O-nommed for costumes in Australia (2008), both starring Nicole Kidman.
In the Leo DiCaprio film Gatsby, her fourth film with Lurhmann, she mainlines fresh blood into F. Scott Fitzgerald's renowned literary autopsy of the empty emotional lives and souls of Long Island's wealthy elite during the gin-soaked prohibition era.
Thanks to Martin, who again did double duty, the film's hyperkinetic bacchanalian parties in Gatsby's mansion are visual feasts — an extravagant meld of sets and costumes. Yet, she remains unerringly true to Fitzgerald's period, perhaps truer than other films set in the roaring 20s.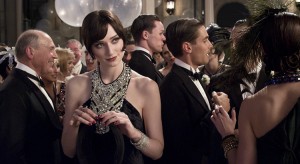 You might also like: Oscar Watch: Could Leo DiCaprio spoil the Best Actor race with Wolf of Wall Street?
Martin was unshackled, freed from the sepia-toned dogma of 23-skidoo fringed shifts and zoot suits by the unavoidable fact that Fitzgerald's book, while set in the summer of '22, was published in '25, and foreshadows the '29 Wall Street crash. While she leaned on the early '20s for the men's narrower suits (including those for DiCaprio, Tobey Maguire as Nick Carraway and Joel Edgarton as Tom Buchanan), she stayed in the latter part of the decade for female characters like Carey Mulligan's Daisy, which let her use more diverse modernity: body-conscious gowns, strapless dresses, bias cuts, asymmetric hemlines, halter necks, even harem pants — all in brilliant iridescent satins, metallic lamés, silk taffeta and rich velvets — accessorized with over-the-top hats, furs and frivolous footwear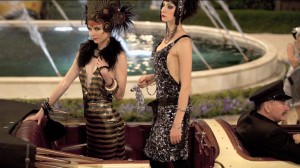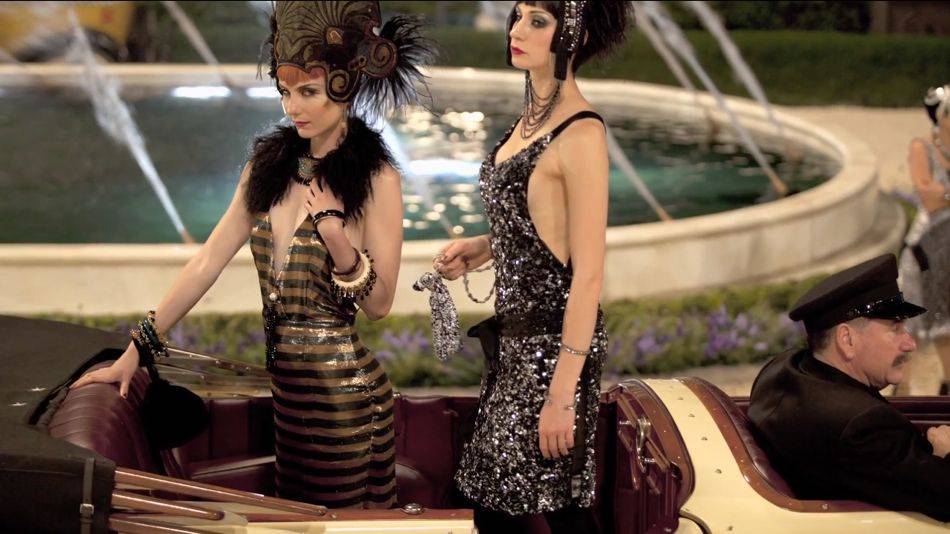 Italian designer Miuccia Prada, who has worked with the couple since Romeo and Juliet, provided a wide range of styles for principals and extras in the party scenes. Prada also inspired Daisy's chandelier dress worn to her first appearance at one of Gatsby's Fellini-esque soirees.
Martin initially found the inspiration for the dress in Prada's Spring/Summer 2010 collection. The dress was initially about light, but when worn by Daisy, in Fitzgerald's context, it became about affluence; a visual reminder of Daisy's voice, a sweet purr that Gatsby noted, "sounds like money."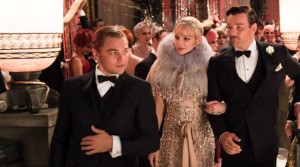 She recalls the moment she first saw the chandelier dress: "We were doing a 3D test for the movie with Leo and Toby about 18 months before we actually shot the movie, even before we got green lit. Baz called in some girls to play background for an evening wear moment. Prada has always been extremely helpful and supportive in all our artistic ventures. They sent several dresses from their archives, including a crystal dress from a past collection. I put it on one of the actresses and in that moment, I saw the Daisy party dress. I never let that go. It was a total ah-ha moment for me."
Gatsby's pink suit, worn in Gatsby's final confrontation with Tom and Daisy, was another important costume for Martin.
"That suit is a character in itself," Martin explains. "It's worn in the scene in which Gatsby confronts Tom and explains to him, rather brutally, that Daisy doesn't love him. Tom tries to undercut Gatsby's position by implying that he's nouveau riche and he mentions the pink suit disparagingly."
Despite the fact that Fitzgerald mentions Gatsby's pink suit in chapter 7 of his novel, Martin wanted a precedent for a pink suit in the '20s and she finally found one in the extensive archives of classic menswear label, Brooks Brothers, who made over 150 suits for the film.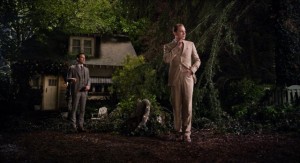 "We found that Brooks Brothers were actually making pink seersucker suits in the early '20s," Martinn recalls, adding, "I don't know whether Leo was that thrilled about having to wear a pink suit, but I think it's an instrumental part of reflecting the intense romanticism that lives inside Gatsby's heart. That he's willing to wear his heart on his sleeve, if you like."
Other period true touches include Daisy's military chapeaux, which adds a boyish charm to her feminine lavender chiffon dress worn when she first runs into Gatsby by surprise. "The trisquare hat was very much a fashion trend at the time," Martin explains.
You might also like: Armani Instagram-gate confuses Alfre Woodward with Idris Elba; Spoofs flood Twitter
While the wild party footage is demanding, smaller moments also provided major challenges. Martin's biggest dilemma was the drowning by rainstorm of Gatsby's cream suit that he wears to meet Daisy for the first time in five years.
Martin explains: "Baz never does anything by half. So it's not just a few gentle raindrops on his shoulders. It's torrential pouring rain. It was just a comedy of errors. We needed more cream suits, but the fabric that everyone liked we didn't have enough of and we could only make two. So after two takes, it was, 'What are we going to do?' We had people delicately hair drying and stretching the suit out so the fabric, which was a silk and linen mix, wouldn't creep up."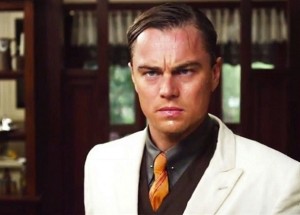 Like many costume designers, Martin is fond of putting hidden touches in costumes, something no one else will notice, but gives the actor insight into the character. To that end, Martin added a skull and bones silk lining to one of to-the-manor-born Tom's suits, the lining references his character's Yale days and The Order of Skull and Bones, the university's elitist secret society founded in 1832 for the sons of the nation's powerful Wall Street banking establishment.
View the hottest fashion trends on ModTV Fashion on FilmOn:

Follow TV Mix on Twitter: @tvmixusa
Contact TV Mix: editors@tvmix.com
SOURCE: TVMix.com