On a news feed that went viral, Justin Bieber allegedly called out UFC superstars Nick and Nate Diaz saying,
"My boxing is way better than the Diaz brothers, they're sloppy and I would easily school those pricks. I've been training with Floyd and he told me I'm a natural. With my training in Tristar (George St. Pierre's gym) and Money on my boxing I'd love to show the Diaz brothers they ain't shit!"
If the Biebs said this, these are strong words from the Canadian who accompanies Floyd "Money" Mayweather (46-0) into the ring with him, and is in there after his fights.
You might also like: UFC 172: Five things we learned from Baltimore
Even though this is laughable, a matchup between Mayweather and one of the two brothers would not be.
Nick Diaz fights at 170, while younger brother Nate at 155. Mayweather has fought at 154, so it would seem more likely the younger Diaz would be a better fit for Mayweather.
Question is: how would he do? The Diaz brothers are known (along with former UFC heavyweight champion Junior Dos Santos) to have the best boxing in mixed martial arts.
Richard Perez, boxing trainer to former light middleweight champion Rodney Jones, Diaz brothers, and more, said that both Nick and Nate have the skills to box, and he would be able to train them to compete and win inside a boxing ring.
You might also like: Justin Bieber deposition: Rude as charged
The two have sparred with undefeated and one of boxing's best pound-for-pound Andre Ward and also Golden Boy fighter Alan Sanchez.
But a fight with boxing's elite in Mayweather? Even though it may seem an uphill battle, Diaz would have the height and reach advantage against him. Marcos Maidana showed Mayweather had holes in his game and if exposed, he could even lose.
That might be a great opportunity for Nick or Nate to get in the ring to see how an elite MMA fighter would do against a world class boxer. We've seen the opposite, with former boxing champion James Toney getting into the Octagon against Randy Couture. It didn't end well for Toney, who wasn't able to throw one punch, and he was submitted in the first round.
You might also like: What do Rob Ford, Game of Thrones and Justin Bieber all have in common?
Interesting to see how it would pan out if it were the other way around, and finally answer the question boxing vs MMA in a ring under boxing rules.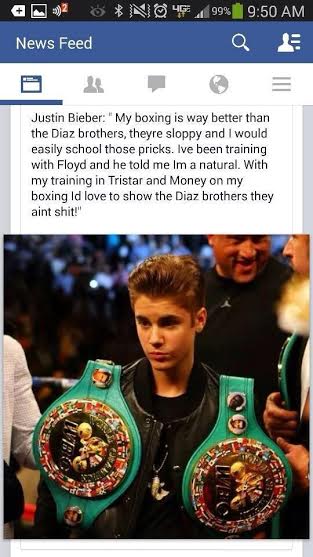 Check out UFC Next on FilmOn:

Follow TV Mix on Twitter: @tvmixusa
Contact TV Mix: editors@tvmix.com
SOURCE: TVMix.com