Step aside Kim Kardashian it's Kendall Jenner's turn to break the internet!
The smoking hot 20-year-old has been living it up at music festival 'Coachella' over the weekend, where her younger sister Kylie Jenner decided to take a video of her, exposing her pierced boobies!
The creepy clip which was available for all to see on Kylie's snapchat account, revealed her zooming in so close we could see Kendall's little tit through her shirt! That's sibling love right there.
So thanks to Kylie, Kendall's bejewelled nips have become even more famous than before, here's a PC pic of the chicks at the festival: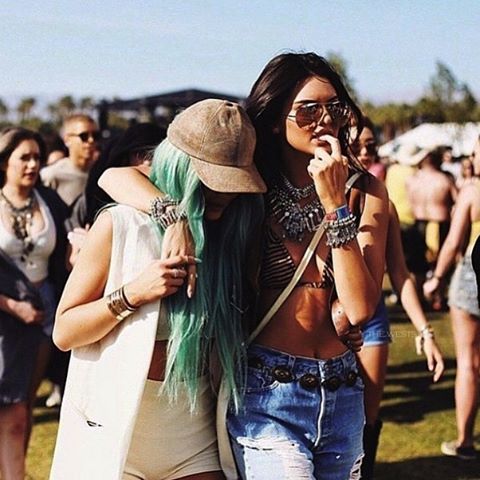 Kendall has since uploaded an image of her naughty outfit, breaking Instagram's golden rule of no boobs on the site- we don't give a shit though!
If you're feeling randy enough visit the models Insta page and if you need to calm yourself down after, click here.
The Calvin Klein model may not be one of the artists performing at Coachella but she's definitely stolen the show.
* Once you've had a cold shower, log onto FilmOn.com where there are hundreds of free TV channels to watch.
You might also like to read:
Caitlyn Jenner learns how to have a 'gender free orgasm' 
Kim Kardashian reveals craziest places she's ever had sex!