You gotta hand it to Lady Gaga – she never misses a trick.
The singer caused a stir ahead of the Grammy Awards by having a tattoo etched on her body in memory of her late musical hero David Bowie.
Gaga, 29, (seen above sporting a previous tattoo on her arm) is due to pay tribute to Bowie at the star-studded awards tonight at the Staples Center in Los Angeles.
So who better to brighten up her body than celeb ink king Mark Mahoney? Judging from a sneak preview on Twitter, Gaga's new etching appears to be a recreation of the cover of Bowie's classic album, Aladdin Sane.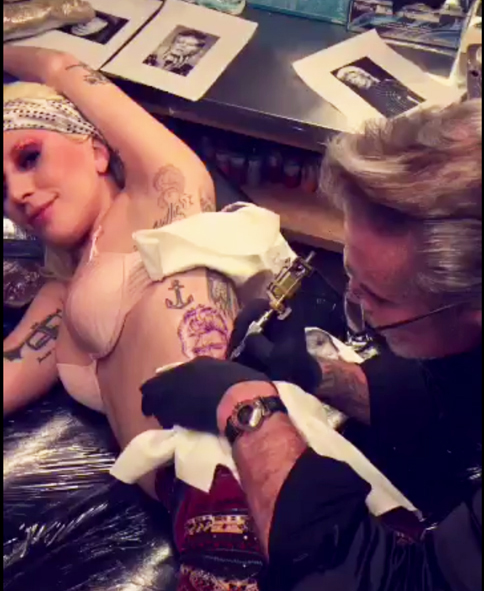 Gaga recently told The Hollywood Reporter: "When I fell in love with David Bowie, when I was living on the Lower East Side, I always felt that his glamor was something he was using to express a message to people that was very healing for their souls. He is a true, true artist."
Meanwhile, here at Ginger Clam we're thinking of celebrating the Grammys by having an image of Justin Bieber tattooed onto our beef curtains!
* Keep up with all the TV news from the Grammys at FilmOn.com, where there are hundreds of free channels packed with news, entertainment and sport.
You might also like to read the following celeb stories:
Gaga gets bloody and flips the bird!
Kanye reignites been with Taylor Swift