Wake up and rub the crusts out of your eyes, gamers. December is finally here, which means gift-giving season is upon us. Holiday gifts are the perfect opportunity to wow the leading lady in your life with a nerdy gift that says, "I may not listen to you, but I still really get you." Even those of you rollin' Han Solo to this year's holiday party, the right gift can make a real, live woman swoon.
To boost your chances of seeing a pair of non-pixelated tatas before we close out 2013, here are a few gift ideas for the Star Wars-loving woman on the top of your list:
1. Death Star Cookie Jar and Star Wars Cookie Cutters
For the Star Wars chick who loves to bake, William Sonoma has an exclusive 4-piece cookie cutter set that includes Yoda, Darth Vader, Boba Fett and a stormtrooper. And because you're a thoughtful guy, what more fitting way to store her masterpiece cookies than a Death Star cookie jar?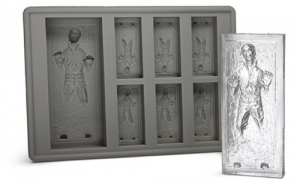 2. Han Solo in Carbonite Ice Cube Tray
Capture your feelings for her in a silicone tray of Han Solo in Carbonite molds. This tray is suitable for ice, chocolate, or the nerdiest Jell-O shots ever. The silicone is heat and cold resistant — just like your love.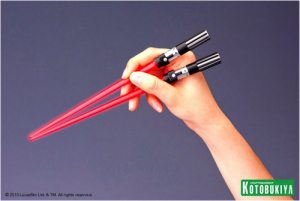 3. Star Wars Light Up Lightsaber Chopsticks
Add a little ambiance to Top Ramen date nights in your mom's basement with these bad boys. Lightsaber chopsticks have been around for a while, but these actually light up and come in different colors you each can have your own pair.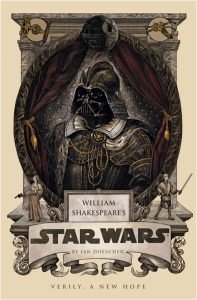 4. William Shakespeare's Star Wars by Ian Doescher
Chicks dig Shakespeare and yours happens to also love Star Wars. She's a catch, so don't settle for a generic copy of her favorite play when you can give her a hardcover edition of the epic tale as told by the man himself.
5. Darth Vader and Son by Jeffrey Brown or Star Wars: Vader's Little Princess by Jeffrey Brown
If your love interest has a young padawan of her own, you'll rack up some major points with Jeffrey Brown's bestselling children's books.