There is one very dark horse in the running for a Best Costume Design Oscar, that will be given out at the 86th Annual Academy Awards taking place in Los Angeles onSunday, March 2. And his name is William Chang.
The majority of film lovers won't know Chang. But for devotees of Chinese filmmaking and martial arts films, this dude is a total rock star.
Chang is responsible for the costumes in The Grandmaster, an artistic and epic action feature from director Wong Kar-wai; who also wrote the screenplay, inspired by the life and times of the legendary Wing Chun style of kung fu master Ip Man.
This is Chang's first Oscar nomination and one that he was truly surprised to receive. "I did not know that foreign films could be included in the costume design nominations."
You might also like: Fashions of The Hunger Games: Pop music's biggest designer pulls in avant garde heavies to dress Katniss
Grandmaster's story spans the Republican era after the fall of China's last royal dynasty, a period of three decades fraught with political struggles and bitter wars that was also the golden age of Chinese martial arts.
Chang is revered by international audiences, having won countless awards for his costume, production design and editing skills on all of Chinese director Wong Kar-wai's stunningly beautiful films including In the Mood For Love and My Blueberry Nights.
In Grandmaster, his costumes again blend seamlessly with the sets, creating a dream-like feast for the senses with scenes so exquisite that they could hang on museum walls.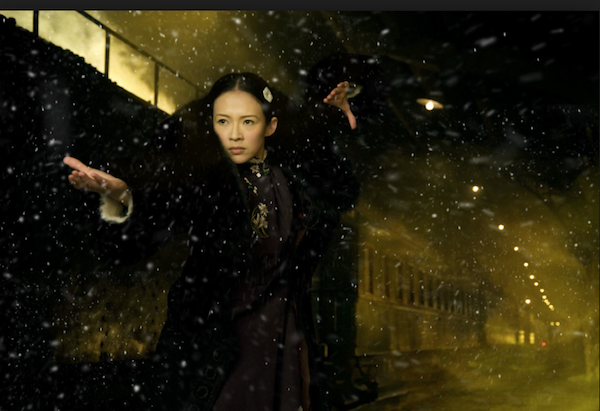 But it's the action scenes that created the biggest challenges for Chang. "It was a lot of work. For certain action scenes, we had to keep the period style as true as possible and make the costumes a bit bigger for the pads inside each piece of costume. Duplicates were also necessary. We might have seven more of the same costume but in different sizes, depending on the action required. But in different sizes."
You might also like: Designer of new Batman suit turns to deep cleavage and '70s fashion for Jennifer Lawrence in American Hustle
The opening rain soaked battle scene – with all the actors wearing '20s styled suits — was particularly difficult.  "The suits move quite a bit. But you can fight in suits. There are tricks we did use, such a bit of elastic in the fabric in the armpits or the inseam of the trousers."
Then there was the major problem of keeping the footwear authentic to the period without causing rampant frostbite.
"The soles of the Chinese shoes are made with layers of hard fabric," says Chang. "You don't use leather. The whole shoe is made of fabric. So for the snow scenes and rain scenes, it's not comfortable for the actors and stunt men. I put a layer of plastic inside to waterproof the shoes and we used very thin fabrics in those snow and rain scenes adding fur inside as well. But it was still very, very cold, like 35 degrees below zero. Thankfully there were no toes lost, according to Chang. "We had heaters all around the set," he said with a smile.
The sensual, ethereal vertical fight between Ip Man and Zhang Ziyi, who plays Gong Er, the daughter of the northern Chinese kung fu master, was also a tricky sequence. Because of the predominately black costumes, Chang had to find ways to make Ziyi's black costume look less solid. Pale linings were used to create a weightless look.
"We put a cream lining underneath so the black is not that dark. It's a little bit transparent feeling to create a kind of seeing through the fabric. The costume is so lightweight that she is move and it flows around her body. Also because all her costumes are dark, Chang paid particular attention to the embroidery and piping on her traditional costumes.
"We did different kinds of embroidery onto embroidery. A very light blue embroidery and on top we did another layer of cream on top. This created a 3- dimensional effect."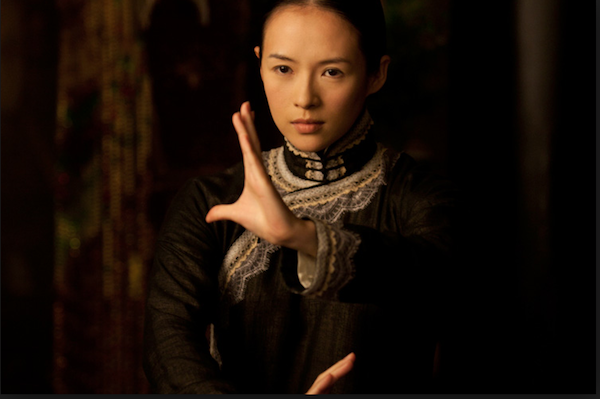 You might also like: Hair, overblown, overextended and over the top, is subject of new U.K. reality show
By contrast, the Chinese brothel scenes were far more colorful. "The brothel scenes are from the '30s to the early '40s," says Chang The prostitutes dress very fashionably. This says that these women are not from good families. At that time, the most fashionable dressed women worked in brothels."
One might argue that it's still that way, at least in Hollywood.
Speaking of Hollywood fashion, we asked Chang what he might wear to the Oscars on Sunday. Perhaps a Chinese designer?
"There aren't any Chinese designers I like to wear," he admitted, adding, "No one has ever asked me that… maybe Tom Ford."
You might also like: 3 essential Kung Fu movies by Run Run Shaw to watch now
Watch Kung Fu Classics on FilmOn: 

Follow TV Mix on Twitter: @tvmixusa
Contact TV Mix: editors@tvmix.com
SOURCE: TVMix.com