Are Kim Kardashian and Kylie Jenner morphing into the same person?
A photo of the half-sisters posing together for Instagram shows them sharing identical pouts that any self-respecting trout fish would be proud of.
At 34 Kim is twice the age of 17-year-old Kylie, the youngest of the five girls in the Kardashian family, but it doesn't stop them looking like two peas in a pod.
Kylie apparently recently accused Kim of cramped her style (yawn) but now she seems to be doing everything she can to mimic her older sibling.
Meanwhile pregnant Kim rented out the Staples Center in LA on Monday to celebrate Kayne West's 38th birthday and posted an image of her with him blindfolded on the way to the bash (below).
We dig the tongue, hun.
* You can keep up with news, sport and entertainment at FilmOn.com, where there are hundreds of free TV channels to choose from that you can watch via desktop, tablet or smartphone.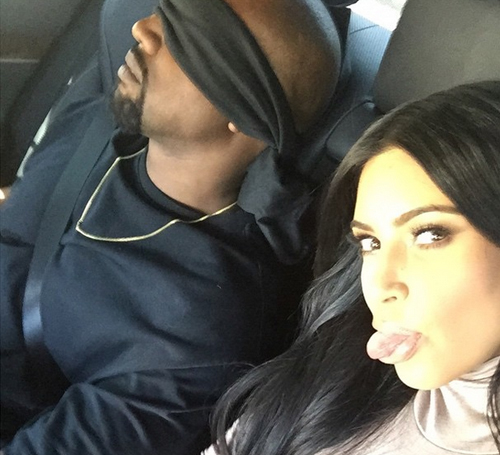 You might also like to read:
Bruce Jenner unveils himself as a woman 
Kim Gives Kanye a good licking
Mail Online: More about Kim and Kylie