Wes Anderson's Grand Budapest Hotel's genteel incursion into most US markets should be complete by today, and the film is already being praised as his 'most Wes Anderson' by varied circles, with implications that range from 'the crowning achievement of a career', to an extravagant teetering on the verge of cliché.
What is true is that the production is elaborate and detailed, and the cast is 'Five Stars'. There is clever slapstick, with an underlying melancholy. Anderson cites Austrian journalist, novella writer and playwright Stefan Zweig as an influence, and while he sets his hotel in the fictional between-the-world-wars country of Zubrowka, in reality his edifice was fashioned out of an old department store in Görlitz, which straddles the German-Polish border as a result of post World War II re-structuring.
It's theme of a world of elegance vanishing is always seductive, and the nostalgia for the world of grand hotels, trusty concierges and graceful old world travel with many many trunks never goes away. If Anderson's world has become too twee, or you just don't want to shell out the $12 to see Grand Budapest in theaters, FilmOn's free VOD service has a healthy dose of the same kind of visual heartache and comedy in Carry On Abroad from 1972.
But first two great Dave Fleischer Kartoon Klassics can lead off ahead of the feature, The Cobweb Hotel (1936) and Granite Hotel (1940), both created during the same period as that in which Grand Budapest is set. Cobweb could easily be seen as an allegory for the growing menace of Nazism, with the looming spider concierge running a sham luxury hotel for flies out of an antique writing desk — he is ultimately undone by a spunky, derby-hatted 'Flyweight' Champion and his newlywed. Meanwhile, Granite, one of a small series of 'Max Fleischer Stone Age Cartoons,' caters to farce-and-pun lovers with a proto-Flintstones twist. Guests include 'Edgar Burgundy' with 'Charlie Bacardi.'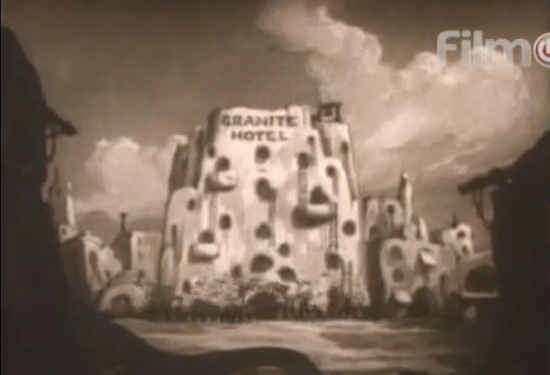 Which brings us to the main feature, Carry On Abroad (1972). It was the 24th in the generation-spanning series of popular, double-entendre loaded British comedy films regularly pairing 'evergreens' such as Sid James (The Lavender Hill Mob, Hell Drivers), Kenneth Williams (Joe Orton's Loot), flamboyant Charles Hawtrey and the John Candy-like Bernard Bresslaw with young 'crumpets' like Sally Geeson and Gail Granger.
The series mined the same motherlode as The Benny Hill Show, yet was nevertheless capable of surprisingly astute and biting observations. In this case James' pub owner Sid Flange ends up booking a package tour to the Costa del Sol resort of 'Elsbels', hoping to hook up with his busty regular Sadie (Barbara Windsor), but his wife (Joan Sims) decides to come along as well. When they, and the other guests arrive, the find an unfinished building (one could even call it a Fawlty tower) and weather less than ideal — but they 'Carry On', on many levels, heading from disaster to increasingly surreal disaster. Not too different from Wes Anderson's loftily extravagant tale from thirty years before/forty some years after – just replace the snow with sun and the moustaches with suntan lotion and open-collared shirts, and maybe subtract three or four stars. 'But not the fun!', as the troll proclaimed in Frozen.
You might also like:
300 sequel a bust: 2 over-the-top Greek epics to watch instead
Ukraine Crisis: Top 7 Cold War movies that shine light on East-West tension
Non-Stop: Laurence Olivier trumps Liam Neeson in this early airplane action pic
Watch more comedy on Popcorn TV via FilmOn:
Follow TV Mix on Twitter: @tvmixusa
Contact TV Mix: editors@tvmix.com