As we reach the height of hysteria as the e 2014 World Cup kicks off, it is important not to forget to list the favorites in the parallel competition that will be even more pronounced in the bacchanalian milieu of Rio.
Of course not accounting for the inevitable yet surprising emergence of a relatively unknown 'dark horse' these are the favorites for WAG (wife and/or girlfriend) of the tournament, with two likely candidates for the 'final':
1. Shakira
The Colombian superstar Shakira is the obvious early favorite for WAG of the tournament, having already built on her writing and performing of the song of the 2010 World Cup, "Waka Waka", the video of which not only drew record numbers of viewers but also brought Barcelona defender and Spain international Gerard Piqué into her life. Now, with a child from Piqué, she is back with her own World Cup song, "La La La (Brazil 2014)" (written with Carlinhos Brown, co-creator of the World Cup's now-banned soundmaker, the Caxirola), which is dominating the official FIFA sanctioned Pitbull/J-Lo composition "We Are One (Ole Ola)," and prompting J-Lo to likely drop out of the opening ceremony.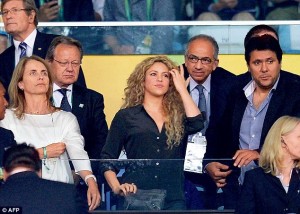 You might also like: World Cup 2014: The 7 most bizarre marketing stunts
2. Irina Shayk
If her significant other Cristiano Ronaldo has a great tournament, his Tatar/Russian significant other Shayk has a great chance to emerge as a superstar in her own right. She has already been a Sports Illustrated Swimsuit Issue cover model, and appeared for the first time earlier this year on the big screen as Megara, the wife of Dwayne Johnson's Hercules. Making the rounds of Manhattan with her beau before heading down to Brazil, a big splash is in the cards. Some potential hidden reefs: Portugal quite possibly could end up playing Russia in the second round, will this cause a clash with CR7? And will Irina be saddled with any babysitting duties during the games with his one-night-stand child, CR7 junior?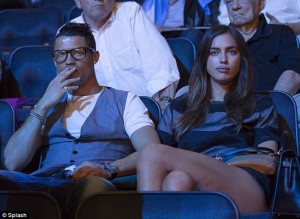 3. Yolanthe Sneijder-Cabau
The former 'princess' of Ibiza, now wife of Netherlands playmaker Wesley Sneijder, is also bringing a double barreled parallel campaign, with a spread in the June Cosmopolitan and 'FreeAGirl' media events for her Stop Kindermisbruik charity for fighting child prostiution (in countries such as India and notably at the moment, Brazil) in which she and each others spend time locked in cages.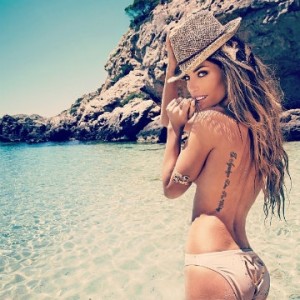 You might also like: World Cup 2014: Injuries, strange and otherwise, are piling up
4. Fanny Neguesha
Mercurial Italian striker Mario Balotelli's new fianceé  Neguesha, of Belgian nationalty but Italian, Congolese and Rwandan descent, certainly appears to have the strength and ambition (she is wildly active on Twitter) to make a run for the trophy in the stands. However, like Irina, she may have to deal with split allegiances (Belgium are a highly swag choice to go far), possible baby-sitting issues (also Mario has not sought out custody of his baby momma like CR7's family), and Mario's possible loss of status as Italy's #1 striker to Ciro Immobile, of all names.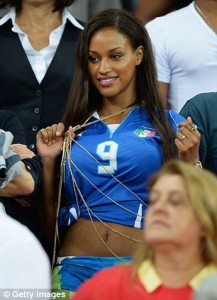 5. Jourdan Dunn
Victoria's Secret model  Dunn has been a last minute addition to the squad, ans reports have linked her to England striker Daniel Sturridge. English coach Roy Hodgson and captain Steven Gerrard have strongly discouraged WAG activity during the cup, but perhaps Dunn will play 'Pokey Little Puppy' and get in under the wire…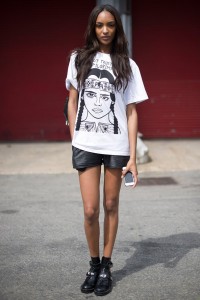 You might also like: World Cup Panini Stickers: 7 steps to total obsession
6. Amra Silajdzic
Silajdzic is the LA-based Bosnian model girlfriend of Manchester City and Bosnia-Hercegovina striker Edin Dzeko. She's appeared on numerous billboards in La-La Land and videos such as Taio Cruz' "Dynamite," while also running her Bosana Foundation to aid marginalized youth back in her homeland.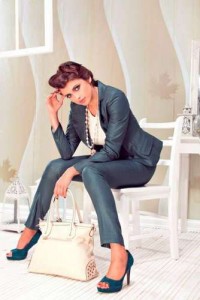 7. Bruna Marquezine
Last but certainly not least, Marquezine will hold a significant home advantage as it's looking like she's back as Neymar's bae for the tournament, after rumors that the couple had broken up earlier this year amidst his struggles on the pitch at Barcelona. Cameras are already following her everywhere…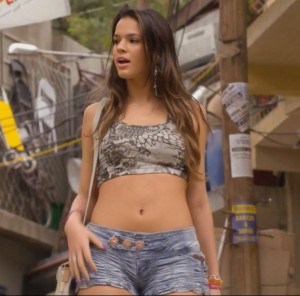 Watch FilmOn Football for some of the best soccer highlights:

Follow TV Mix on Twitter: @tvmixusa
Contact TV Mix: editors@tvmix.com
SOURCE: TVMix.com