Stanley Enow is Cameroon's hottest Afrobeat performer and has been blowing up around the World with hits like My Way and Cassanova. "During the shooting of his latest video in Malibu California, Stanley survived a terrible hit to the body when he collided with a giant blow up Rainbow Unicorn!" Said Stanley's manager Mr. Africa aka Jacob Johnson.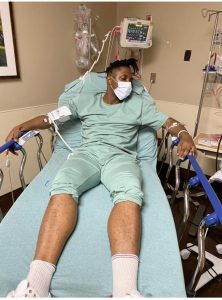 Stanley Enow recovers from near fatal Unicorn collision
"The Unicorn was thrown around by rough seas, Stanley got crushed by the giant inflatable and nearly drowned. It was over in a few seconds. Stanley resurfaced and after a few minutes rest, he was back into the shoot. Also featured in the shoot are famous Tik Tokers KingCarlX and Mikeytua.
"But at that point he sorta got a download from the big man" added Mr. Johnson.
– "Make an NFT of El Palucho! Split it up into 100 parts and sell all the parts on to raise money for The Stanley Enow Foundation!"
The Timeless Afrobeat hit My Way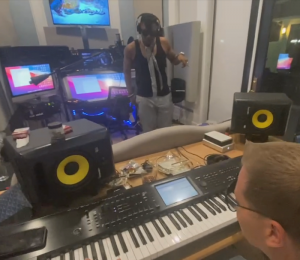 In a valiant effort to empower kids in Cameroon, The Stanley Enow Foundation was established soon after Stanley was invited to be Global Brand Ambassador for UNICEF.
Rudy Delarenta speaking on behalf of Swissx TV, reffering to Stanley's accident said, "we're glad things turned out so good after the Unicorn incident! We're also very proud to be a part of Stanley Enow's Album release and help expand the horizons of the Stanley Enow Foundation.
Exclusive Video content is available with lockable files in NFTs available on the World's largest NFT market place, OpenSea.com/SWISSX "Produced in California with legendary hip-hop Producer Scott Storch and Media Mogul Alki David. Swiss-Sexy is kind of a rap opera encompassing the idea of looking within to discover the strength inside all of us." Says Stanley Enow Every time a bear is traded the Stanley Enow Foundation receives a 7% donation from the transaction fee of any one of the El Pelucho Bear tokens!
Verified by Lith Token, the NFT Active video includes Stanley Enow's emotional support toy called El Palucho which is the subject of a fractional sell off to NFT Investors. The asset backed Swissx Token is under-written by fractional ownership by each 1% buyer of the custom diamond pendant made for El Palucho by Cameroon's notorious jeweler, Da White. The actual cost to make the bling was $50, 000 According to Lith Token who verified El Palucho's bling and the minting of the NFTs. In a move to promote the Stanley Enow Foundation, Stanley partnered with Storch and David to create Swiss Sexy. "Its an ode to the kids of Cameroon looking for a way out of poverty and mental health issues from war and conflict.  It's also a real way to generate funds for the Stanley Enow Foundation." Said Alki David founder of the Swissx Companies. " Every time an El Palucho Bear is Minted on the NFT Markets like OpenSea.com, the Stanley Enow Foundation will receive 7% of every transaction." said Mr. David While making the Video, Stanley a newcomer to America has been spending the last few weeks getting to know the West Coast Hip Hop Crews. Stay tuned to Stanley Enow Channel on Swissx TV