Donald Trump has become one of Kyle Rittenhouse's biggest supporters since the latter's acquittal in his recent murder trial. The 18-year-old, who was found not guilty on all counts of homicide last week, on account of self-defense during the protests in Kenosha, Wisconsin in summer 2020, has been garnering general encouragement from right-wing circles, especially the former U.S. president.
During an appearance on conservative political Sean Hannity's right-wing talk show that aired on Fox News on Tuesday night, Trump revealed he welcomed Rittenhouse at Mar-a-Lago just before the taping of the radio program. When the politician and the former defendant met at the former's resort home in in Palm Beach, the media personality expressed his support for the newly acquitted young man. The duo also posed for a couple of photos in Trump's office.
The businessman also informed the Fox News talk show host and his audience that Rittenhouse asked him if he could visit him at his Florida mansion because he's a fan. "He came over with his mother. Really a nice young man…He should not have had to suffer through a trial for that. He's a really good, young guy," Trump added.
The former president also revealed that he agreed to meet the teenager because he's also a fan of his. Trump added that he feels the trial was prosecutorial misconduct.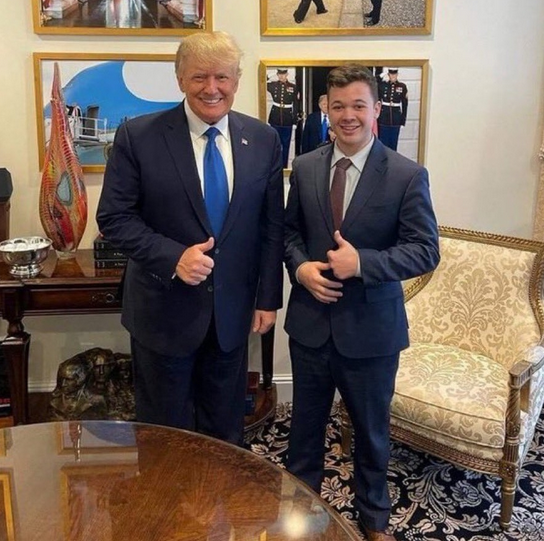 Rittenhouse was put on trail after he traveled 20 miles from his home in Antioch, Illinois, to Kenosha. He visited Wisconsin after protests erupted there in the wake of the shooting of Jacob Blake, who is Black, by a white police officer. When the teenager arrived in Kenosha, he shot and killed Joseph Rosenbaum and Anthony Huber, and wounded Gaige Grosskreutz.
At his trial, Rittenhouse testified that he committed the shootings were in self-defense. He also claimed prosecutors had taken advantage of him during an interview he participated in on Fox on Monday night with Tucker Carlson. During the appearance, the former defendant insisted his trial wasn't about race, and that he was a supporter of the Black Lives Matter movement.