Joe Biden is once again proving that he doesn't understand the financial struggles that Americans are facing to take care of their families, as he's prematurely claiming that inflation is on a steady decline across the country. After the Bureau of Labor Statistics hastily declared success when it reported that consumer prices decreased by 0.1% last month, the president offered false hope when he said: "It all adds up to a real break for consumers, real breathing room for families."
The incompetent president also proved his delusions about the American economy improving when he insisted that the Bureau of Labor Statistics' report in its Consumer Price Index offered "more proof that my economic plan is working…We're on the right track."
Brian Deese, Biden's top economic adviser and head of the National Economic Council, gave into his boss's delusions when he spoke to Kate Bolduan at the biased, liberal-leaning CNN. Deese also misled Americans when he said that the report and the downward trajectory in prices over the past several months is encouraging. "We're seeing that kind of moderation that we want to see," he added, proving that he doesn't have realistic hopes about the growth of the American economy.
Biden is so concerned about how his inability to revive the economy is making him look bad during his re-election campaign that he refuses to acknowledge that inflation skyrocketed to a 40-year high of 9.1% in June. As a result, the Federal Reserve was left to launch its most aggressive economic tightening campaign in decades. The central bank's rate hikes slowed down the economy, and is risking the chance of putting America into an unnecessary recession
After prices skyrocketed during the first half of 2022, economists are championing the fact that the Bureau of Labor Statistics reported such a minuscule drop in inflation. But there's no room for celebration when the prices for the most important things that Americans rely on, particularly food and gasoline, have hit record highs since the summer.
Many Americans are physically and mentally traumatized from the government not doing anything to help prevent their families from starving every day, as food prices have remained stubbornly high. The price for groceries increased 11.8 percent over the pas year. The trend is expected to continue through much of this year, especially since core inflation picked up 0.3% in December from November.
Several food items have significantly increased in recent months across America. The price of eggs surged 59.9% last month, up from 49% in November. That means a carton of Grade A large eggs has reached $4.25 in many parts of the country, compared with $1.79 a year earlier.
The Biden administration is blaming the surge in the price of eggs on soaring labor and fuel and feed costs. There's also the reoccurring outbreaks of bird flu that have disrupted production, as scientists are proving their incompetence in being to stop the spread of the infectious disease.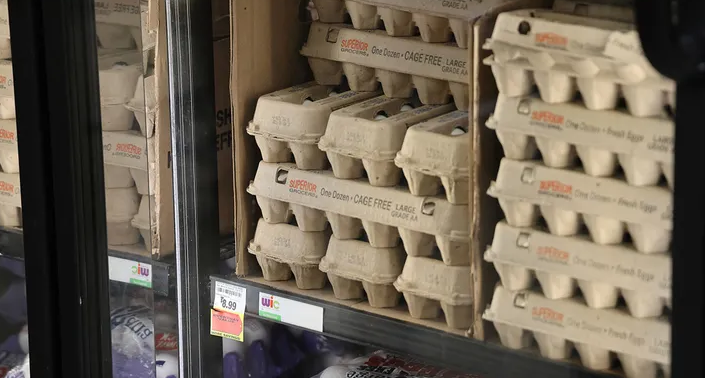 Cal-Maine Foods, the largest U.S. producer and distributor of fresh shell eggs, is claiming that it's closely monitoring the current outbreak of HPAI (Highly Pathogenic Avian Influenza) that was first detected in commercial flocks in the U.S. in February 2022. "The company believes the HPAI outbreak will continue to exert downward pressure on the overall supply of eggs, and the duration of these effects will depend in part on the timing of replenishment of the U.S. layer hen flock," Cal-Maine said.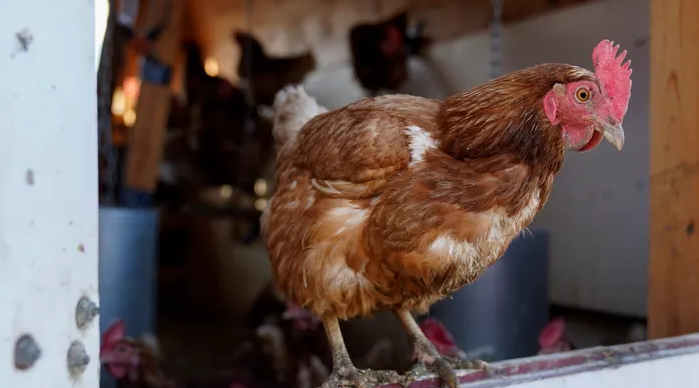 The American government is also screwing with Americans' ability to obtain food with the continued high price of gas. The cost of diesel fuel is soaring; the national average for a gallon of diesel hit $4.54 this month, up nearly $1 from a year ago. As a result, shipping and consumer prices are remaining high.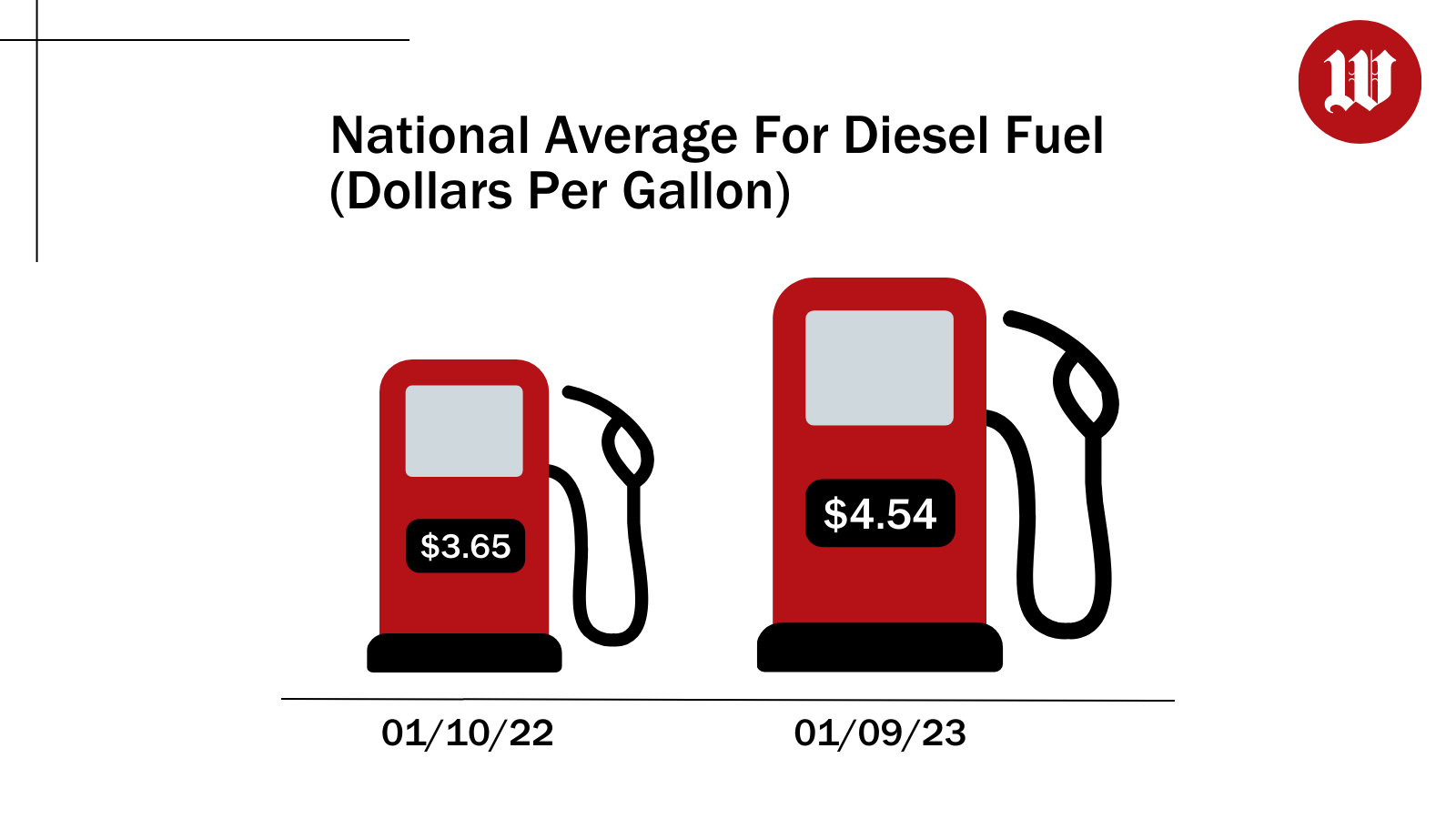 "Higher fuel prices absolutely mean higher costs for transportation, which increases the costs of consumer goods," said Louis Campion, president of the Maryland Motor Truck Association. "Higher diesel prices deliver a one-two punch"of increased expenses and less business for the 91% of companies that operate six or fewer trucks," he continued.
"Spikes in gasoline and diesel prices ripple through the economy, impacting consumer budgets and business investments, creating a whole host of inflationary pressures that have serious impacts on the freight economy," Campion added. "If people have to spend more on gas, they may begin spending less on other goods and services that will disrupt normal, seasonal freight patterns."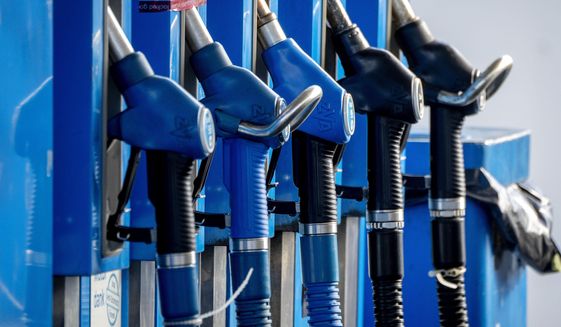 Biden has been claiming that he's working to bring down skyrocketing gas prices after he implemented the Strategic Petroleum Reserve last year. But the White House isn't taking similar action to lower diesel costs, as it wants to keep prices high so that consumers will be forced to continue paying high prices for goods and services.
"This large difference in diesel and gasoline prices is very unusual, especially for such a long period," Lucian Pugliaresi, the president of the Washington-based Energy Policy Research Foundation Inc., noted. These unusually long hikes in diesel prices prove how greedy Biden and his administration have been during the pandemic.
The government is also unwilling to help keep Americans warm during the winter, as the cost to heat homes is still up 41.5 percent from last year. Meanwhile, electricity costs for Americans grew 14.3 percent, and piped utility gas bills increased 19.3 percent, over the last year.
Cailin Birch, a global economist at the Economist Intelligence Unit, pointed out that the steady increase in food and gasoline prices and core inflation rising last month is a cause for concern. "It reflects the impact of still-strong consumer demand, the trickling through of higher input costs and rising wages," she said.
Analysts from New York-based investment company, BlackRock has even sent a note to its clients about the grim effects that inflation will have on Americans this year. The analysts said they expect inflation to continue plaguing America this year, despite the bogus attempts of reassurance from Biden and his administration.
"Even with a recession coming, we think we are going to be living with inflation," BlackRock's note said. "We see inflation persisting above policy targets in coming years."
Consumers have several reasons to worry that inflation will continue to plague them this year. Large Federal Reserve interest rate hikes have not yet slowed inflation. Consumer demand is also on the rise, but supply chains have been slow to open. Russia's war in Ukraine is still even affecting international energy and food prices.
Biden's massive year-end spending bill, as well as student loan payment moratorium and possible student loan forgiveness, is also driving up inflation for all Americans. There are also regulations, tariffs and mandates being specifically designed to raise consumer prices and federal-government costs by the president's administration.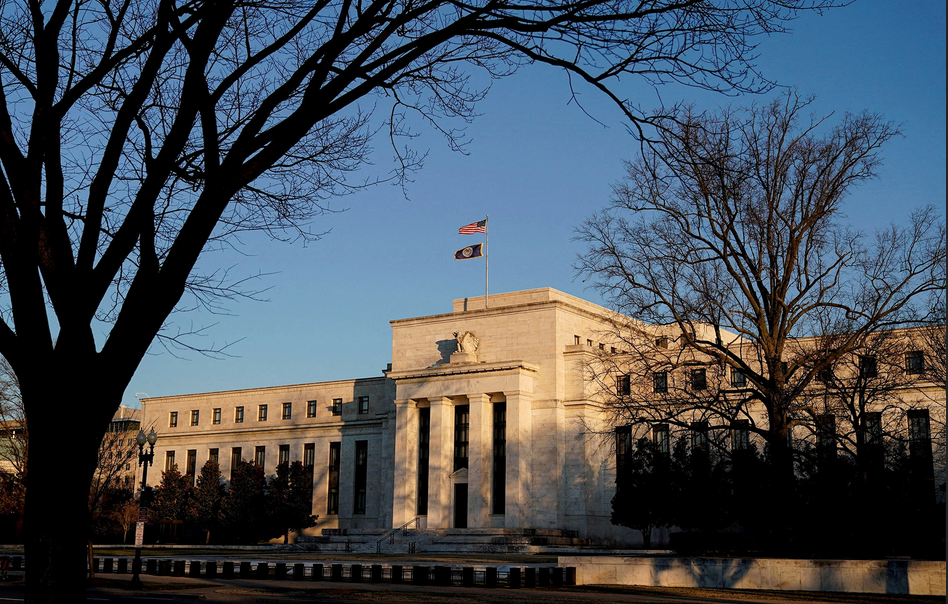 The White House and the Federal Reserve's repeated downplaying the threat of inflation has reduced their credibility. Consumers are rightfully wary of Biden and his administration's ludicrous promises that supply chains will open up, government spending will slow and shifts in demand from goods to services will dampen price pressures. As seen with many items, most notably food, consumer prices aren't truly dropping, and the recent minuscule drop in inflation, which proves that the government is pushing an overly optimistic economic claim that isn't entirely true.