Get ready to rumble, clam fans – there's gonna be a fight.
In case you've been living on Mars there's just a few days left until rival boxing champs Manny Pacquiao and Floyd Mayweather meet for their crunch bout in Las Vegas on May 2.
The rumble has divided showbiz-land over who's gonna win – so much so that Diddy and Mark Wahlberg recently wagered $250k with each other about the outcome.
In case you're wondering, Diddy is backing Mayweather while Wahlberg goes for The Pacman. You can see the pair arguing the toss on Diddy's Instagram page, where their exchange went as follows:
Wahlberg: Who you got int he fight?
Diddy: Got Mayweather. I'm going with the money team, baby? Who you got?
Wahlberg: Pacman
Diddy: Wanna put $100,000 on it?
Wahlberg: Why so little?
Diddy: Oh … (how about) $250,000?
Meanwhile, here at Ginger Clam we're all moist at the thought of wagering a cool quarter of million, just like that.
* You can catch all the big fight news during the build up to the bout by going to FilmOn.com, where there are hundreds of free live TV channels to choose from.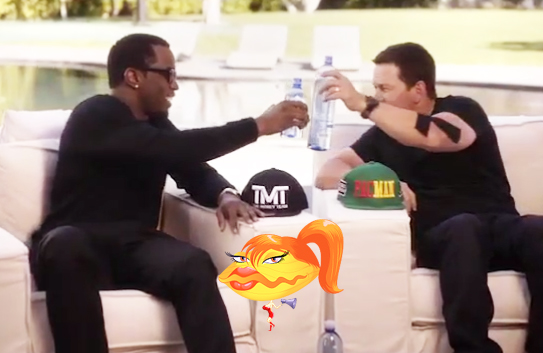 Other recent stories that you might also like to read:
Forbes magazine's verdict on Diddy & Wahlberg
Beaver alert at the White House!
Lady Gaga unveils new pal on Instagram