Holy Taco, Batman! This is some way to impress the President, the Oval Office hasn't seen this much clam since Monica Lewinski bent down to pick up Clinton's tongue.
Chrissy Tiegen, supermodel wife of John Legend, stunned the world last night when she rocked up to the White House Correspondents Dinner with her beaver on full show.
The extraordinary images can be seen here, click click mind your ding dong.
With Michelle Obamam's pledge to get the nation eating healthily again, she must have been shocked that hubby had ordered a massive order of Taco Bell.
Tiegen arrived with a host of other glamourous ladies – including Irina Shayk, Chanel Iman and Adriana Lima – but she must have been determined to outshine them all. Employing a full-on beaver attack was sheer genius.
President Obama failed to refer to Chrissy's crackerbox during his speech at the event, but we know it was on his mind. He probably autographed it afterwards in the backstage lounge.
Tiegen isn't shy about showing the world her hot bod. Last week she posted this picture and message on her Instagram account: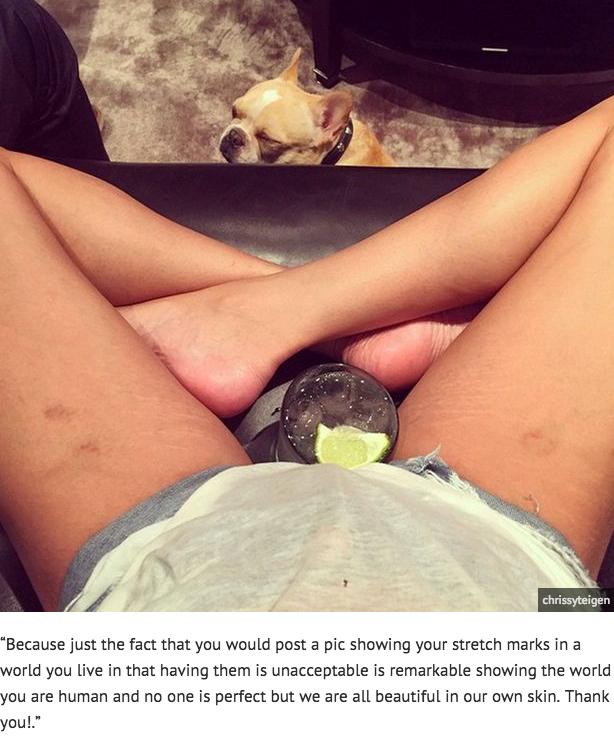 Ginger Clam isn't usually interested in politics, but Tiegen has done a great job of focusing attention on events in Washington. With the election pending, we suggest Chrissie's Clam for President. The White House has never had a bald leader.
*You can keep up with celebrity news and entertainment at FilmOn.com, where there are hundreds of free live web TV channels to choose from.
You might also like to read:
Mail Online: More about Gaga's pooch