What happens when a California State Governor's political career is funded by donations from a network of corrupt lawyers and fixer officials at the State Bar.
The Los Angeles Times first reported about Hollywood lawyer Tom Girardi's fall from grace right about the same time Girardi and his Firm were indicted on corruption charges by the Feds.
Girardi who is Gavin Newsom's largest financial contributor is in bed sick but apparently overwhelmed with remorse and guilt from stealing hundreds of millions of dollars from his own clients.
Girardi was also indicted and disbarred for bribery and corruption of officials at the State Bar. So Tom checked himself into an old people's care home hoping to fend off the heat. No joke.
Tom's Housewife of Beverly Hills, Eryka Jayne is now allegedly estranged from her ex and is feverishly running around LA bad mouthing him with Gloria Allred! Yeah she's doing this whilst also being found guilty by another court for collaborating in Tom's scam!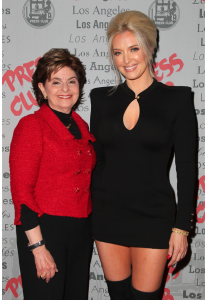 According to OK Magazine. Gloria Allred went ape-shit when Girardi was caught stealing hundreds of millions of dollars from his client trust accounts in order to fund his and Eryka's lavish lifestyle. Oh and Gavin Newsom's political career too.
Allred had every right to freak out, you see Allred and Girardi, both alumni of Loyola Marymount, had a decades old list of corrupt officials at the State Bar ready to bat away any complaints made by victims of insurance fraud.
Keeping it all in the family business, Allred's daughter Lisa Bloom and Gilardi's son in law David Lira, would write up the lawsuits file them then gather the evidence. Lira was recently indicted over even more evidence of corrupting State Bar officials.
"It's a sophisticated insurance fraud scam, perfected over the years" were the words of another famous LA attorney who wishes to remain anonymous. "Gloria and Tom have been running the State Bar scam for years and a lot of people have known about it for years. Why no one did anything? I suppose you have to ask the State Bar!"
OK Magazine reported on Gloria Allred's evident shock at Girardi's indictment, whilst two of Allred's fake me too victims, Mahim Kahn and Lauren Reeves are also waiting to hear what a Swiss Federal Court in Zurich will rule over charges brought against them for in Switzerland.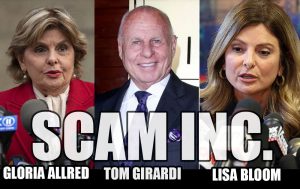 "Criminal charges were made this week against Gloria Allred's fake me too clients Mahim Kahn and Lauren Reeves, for their part of criminal coercion to defraud media mogul Alki David.
The charges were filed along with charges of criminal coercion with intent to defraud"  said Rudy Delarenta of Anakando Group in Switzerland.
"Both crimes carry a minimum sentence of three years each in Swiss federal prison. We will fight the extradition if any resistance is met from US authorities to hold these people accountable."