Look at recent photos of sort-of-Hip Hop star Macklemore's from another angle, and ask yourself this question: HOW CAN ANYBODY THINK THIS ISN'T A CARICATURE OF A JEWISH STEREOTYPE?
Sure, there's no yarmulke, but that's because this two-cent excuse for a musician knows he'd get knocked unconscious if he made this outfit that outlandishly obvious.
So, let's try and break this down with the simple questions a journalist must ask:
Who? Macklemore, of Macklemore & Ryan Lewis, is a guy who has pretended to be able to rap, and sold a metric ton or two of units off of this lie. He also stole a Grammy that should have been Kendrick Lamar's, but that's more on the ancient gasbags who decide those awards.
What? This costume. Look at it again. Seriously. I would try and give my true uncut feelings for you, but TVMix has a limit on profanity, and this fraction of a human being isn't worth testing said limit.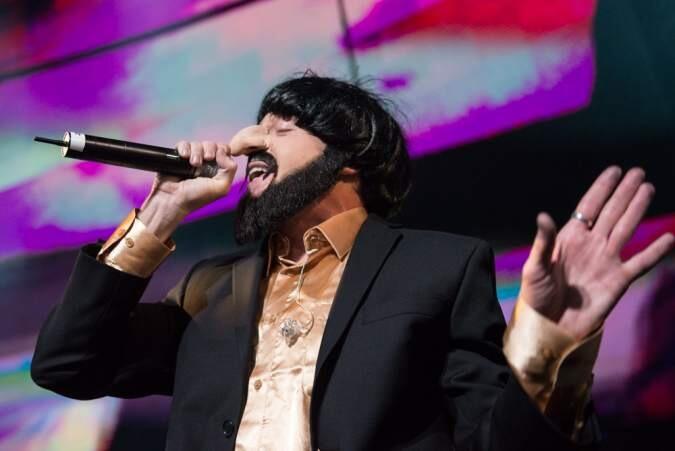 Where? This was his outfit during a "musical" performance, which was part of the opening of the 'Spectacle: The Music Video' exhibit at Seattle's EMP Museum. During said performance, Macklemore did nothing to explain his horribly poor choice in wardrobe. Maybe he's getting all meta about the concept of spectacle, but at this point, this is more Mel Gibson than meta.
When? In 2014. Sure, it happened on Friday, May 16, but that specific date doesn't matter. There is no way it explains this.
How? A complete lack of anybody telling him he's a dumbass. That and raiding the costume department from a Nazi propaganda film.
Why? We have no definitive answers, the stain of humanity referred to here as Macklemore tweeted, "A fake witches nose, wig, and beard = random costume. Not my idea of a stereotype of anybody." I can only offer a few theories: either 1) he's a moron, 2) he's bigoted, or 3) the start of some Joaquin Phoenix performance art.
Moron.
Henry T. Casey is a newly funemployed freelance writer, an experienced product developer, hated Macklemore since the first time he heard 'Thrift Shop' and can be found as @henrytcasey on Twitter.
Get more celebrity gossip on Celebrity Buzz via FilmOn:
For more streaming TV and movies, visit FilmOn.
Follow TV Mix on Twitter: @tvmixusa
Contact TV Mix: editors@tvmix.com
Source: TVMix.com