It was only a matter of time before before Major League Baseball was drawn into the latest sports racism Twitter twister, as it has pretty much been a constant dust devil in this regard for decades. Specifically, the social media uproar over the NBA's Donald Sterling controversy and the Neymar/Daniel Alves-led #weareallmonkeys European football banana-eating campaign has shed new, intense light upon the twitter campaign #DeChief, geared towards getting Cleveland Indians fans to remove the offensive Native American caricature 'Chief Wahoo' from their apparel and merchandise, in protest of the franchise's lack of action towards fully phasing it out themselves.
Portland-based Jacqueline Keeler, who was involved in the recent #NotYourTonto campaign, focused on the 2013 Oscar nomination for Johnny Depp's stylized Comanche caricature make-up in The Lone Ranger, and her co-founded organization EONM (Eradicating Offensive Native Mascotry), which is behind #DeChief, protested outside Nike's Beaverton, OR headquarters to get the clothing manufacturer to divest from the Indians, among other teams. Nike's response was to put on their best punting shoes, stating the obvious, that they "have a contractual partnership with Major League Baseball as the licensing agent for MLB team-approved marks," adding that "each Major League team is responsible for choosing their team logos and marks." Nike went on to say they "have a long history of supporting the Native American community," but apart from "encouraging dialogue" nothing was uttered remotely resembling a withdrawal of sponsorship.
EOMN members have also recently been involved in a bit of a Twitter dust-up with Wayne Coyne of The Flaming Lips, who recently fired their drummer Kliph Scurlock. Scurlock alleged that Coyne fired him over his criticism of EONM target Christina Fallin, a friend of Coyne's and the daughter of Republican Oklahoma governor Mary Fallin. Fallin, the lead singer of electronic band Pink Pony, had posted a glamour shot of herself in a faux Red Plains headdress on Instagram. In the storm that has followed, Fallin has performed and danced in Native American garb with 'SHEEP' scrawled on the back, and Coyne has bizarrely defended her on Instagram with a series of photos (now deleted) featuring other attractive musicians in the headdress, as well as a bulldog.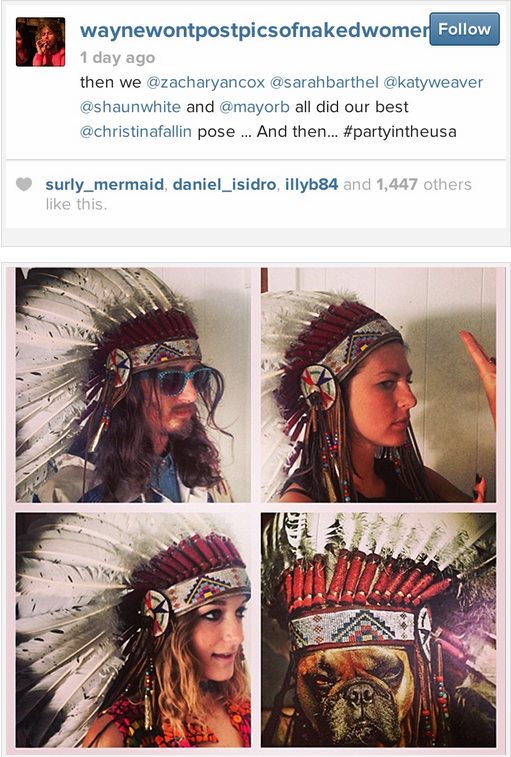 Watch MLB Network: Intentional Talk on FilmOn:
For more streaming TV and movies, visit FilmOn.
Follow TV Mix on Twitter: @tvmixusa
Contact TV Mix: editors@tvmix.com
Source: TVMix.com