The new James Bond movie looks more mouth-watering than a vodka Martini garnished with a rosy pair of pink nip nips.
Yes clam fans,  007 is back – and this time he's rubbing his Walther PKK up against the thigh of Monica Bellucci.
Daniel Craig is seen smooching with the former Matrix beauty in the latest clip from Spectre, the 24th Bond movie which hits theaters later this year.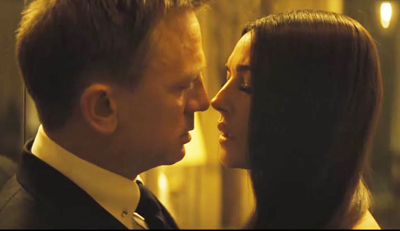 The two-and-a-half minute trailer has taken the internet by storm, notching up over 5million plays on YouTube in its first 24 hours.
It looks like Spectre, directed by Sam Mendes, is packed with new thrills and spills while also playing homage to Bond classics like Live and Let Die. The bad guys wear skeleton masks just like the voodoo dude in the 1973 film with Roger Moore.
Plus you get to see Mr Bond playing with a big chopper. Now there's a fine sight to behold.
Meanwhile if you're a movie fan then head to FilmOn.com – where there are free movie TV channels and movies on demand.
You might also like to read the following:
James Bond's white tux is back
Tom Cruise: I was scared s***less by movie stunt
BBC presenter makes 'Ron Burgundy' howler