Hop-hop queen Nicki Minaj kicked off the UK leg of her world tour at London's O2 Arena at the weekend – but the big-butted beauty got a decidedly luke-warm reaction from some critics.
The Daily Telegraph reckons the star was 'strangely disengaged' after taking to the stage dressed all in black, including a lace veil that initially covered her face.
"Her Minajesty was imperious for the first six songs, viciously spitting the quickfire rhymes of Only, purring through the languorous reflection of I Lied," says the Telegraph.
"The only recognition that the crowd even existed came in a sly flash of a smile and those famously expressive eyes. When British soul singer Jessie Ware arrived in a tux to duet on The Crying Game, Minaj stalked off stage,leaving her to entertain the crowd alone."
It sounds like a million miles from the fun and games that Minaj got up to last week in Paris last week, when the singer posted several racy shots of herself on Instagram.
One image showed her waving her gargantuan cleavage in the face of her fellow artist Meek Mill (above), while another showed her on all fours waving her butt in the air (see below).
Perhaps as far as London is concerned the best  – or should that be the breast – is yet to come.
* You can keep up with music, live news and entertainment at FilmOn.com, where there are hundreds of free live TV channels to choose from, including Music Mix USA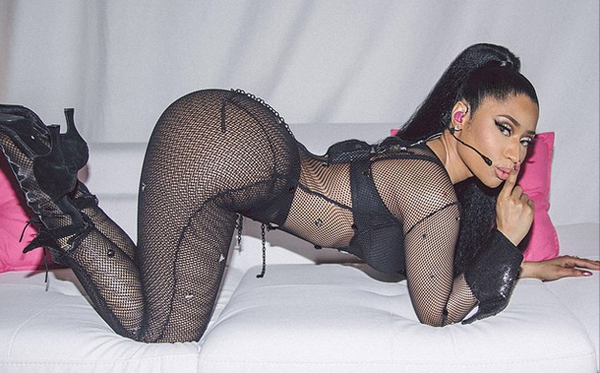 You might also like to read:
Kim Kardashian and Amber Rose gets things off their chest