Donald "Cowboy" Cerrone (23-6) ranked #6 in UFC lightweight rankings, will face #7 Jim Miller (24-4) tonight at UFC Fight Night in Atlantic City, New Jersey on Fox Sports 1.
You might also like: UFC to Nate Diaz: "F*** You!"
It was business as usual for the two — but on Monday night — UFC lightweight Nate Diaz (who is in a contract dispute) took a shot at Cerrone in a tweet: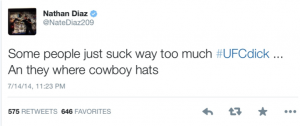 That led UFC President Dana White to step in and defend "Cowboy" via ufc.com  saying, "Nate can do whatever he wants to do. Nate can sit out and not suck any UFC whatever, for as long as he wants to. Who cares, he's a grown man.
Cerrone didn't comment on Diaz or the tweet, but is going into his fight on a 3-fight win streak while Miller has won two straight.
You might also like: Did Justin Bieber call out UFC fighters?
Ironically, Diaz has faced both, and won each time, submitting Miller in 2012 and winning a decision against Cerrone 2011.
Both men are almost equal skill-wise, with Cerrone having the height and reach advantage. If the fight stays on the feet, look for "Cowboy" to have his way with Miller, however, if Miller can get Cerrone to the ground early in the fight, he could pull off his second straight submission. Cerrone by decision.
You might also like: MMA's Martin Sano Jr. on being the fighter no one wants to fight
Check out UFC Next on FilmOn here.
Follow TV Mix on Twitter: @tvmixusa
Contact TV Mix: editors@tvmix.com
SOURCE: TVMix.com