It is a new Chinese New Year and Super Bowl Sunday is upon us, but to hardcore soccer fans, it's another week closer to nirvana in Brazil. Here is this week's World Cup update:
Romelu Lukaku's ankle
Belgium National Team and Everton fans could take a bit of solace in the aftermath of the Toffee's demoralizing defeat at Liverpool last Tuesday in that a second scan on striker Romelu Lukaku's ankle revealed no ligament damage, and his prognosis for recovery time has been reduced to weeks, not months. Thus, he should be available for Belgium in Brazil and for Everton's final push for European tournament football, if they can recover to at least keep pace with their crosstown rival, as well as Tottenham Hotspur and Manchester United in the battle for fourth place in the English Premier League. Everton face Aston Villa tomorrow, featuring a battle of U.S. national team goalkeepers Tim Howard and Brad Guzan.
US Men's vs South Korea
Thus US Men's National Team will be featuring a third-string keeper for it's first 'friendly' game of 2014, against South Korea at the StubHub Center in Carson, Cali. A good choice of venue and team, as the South Korean men are usually right up with Japan as the top national teams in Asia (and in this case they will be having something to prove, having just been seriously humbled by Mexico in San Antonio, Texas last Wednesday) and the match will attract many of the huge Korean-American community in SoCal.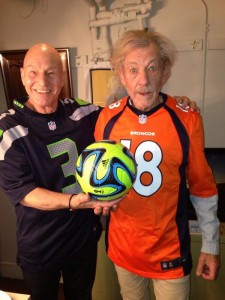 In other news:
Colombian international star Radamel Falcao is being given a 50-50 chance of making it to the World Cup after surgery on his leg injury, and it appears that Liverpool and England have bad news as defender Glen Johnson is likely to require surgery on his ankle and groin, making him highly doubtful for the June tournament. In a final note, the most exciting moment for some this week came in the form of the photo posted above of a couple of England's baddest-ass actors, Patrick Stewart and Ian McKellen commemorating the event of this weekend.
You might also like: 
The Simpsons Predicted A Broncos-Seahawks Super Bowl Showdown In 2005
World Cup Prospects: Liverpool and Everton face off in Merseyside Derby
Gotta Watch, World Cup edition: The Glitterball (1977)
Watch FilmOn Football for more soccer news from around the world:

Follow TV Mix on Twitter: @tvmixusa
Contact TV Mix: editors@tvmix.com
SOURCE: TVMix.com