She may have the world's most famous butt (apart from Kim Kardashian, that is) but it seems that there's more to Beyonce than meets the eye.
The 34-year-old singer has been talking to Elle magazine, which portrays Bey Bey as a hugely successful businesswoman during a giant love-fest in its May issue.
Apparently the star is about to launch her new 200-item 'Ivy Park' clothing and sportswear range in conjunction with several retailers from April 14.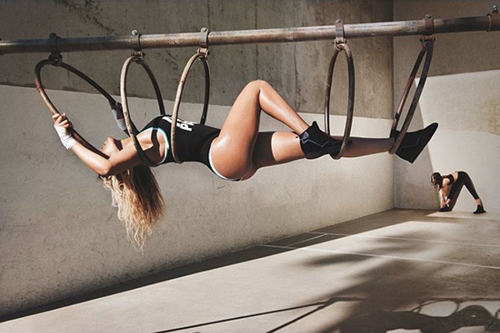 Beyonce posted several images on Instagram to celebrate this feat, including the photo above of her climbing through a series of hoops.
Meanwhile she tells Elle: "I called it Ivy Park because a park is our commonality. We can all go there; we're all welcomed. It's anywhere we create for ourselves. For me, it's the place that my drive comes from. I think we all have that place we go to when we need to fight through something, set our goals and accomplish them."
We're f***ed if we know what any of that means – but it sure sounds good.
* Keep up with news and entertainment at FilmOn.com, where there are hundreds of free TV channels to choose from that you can watch via desktop, tablet or smartphone.
You may also like to read the following showbiz stories:
Kim Kardashian and Emily Ratajkowski go topless
Madonna's ultimate humiliation?
Beyonce and Kim K are pals again